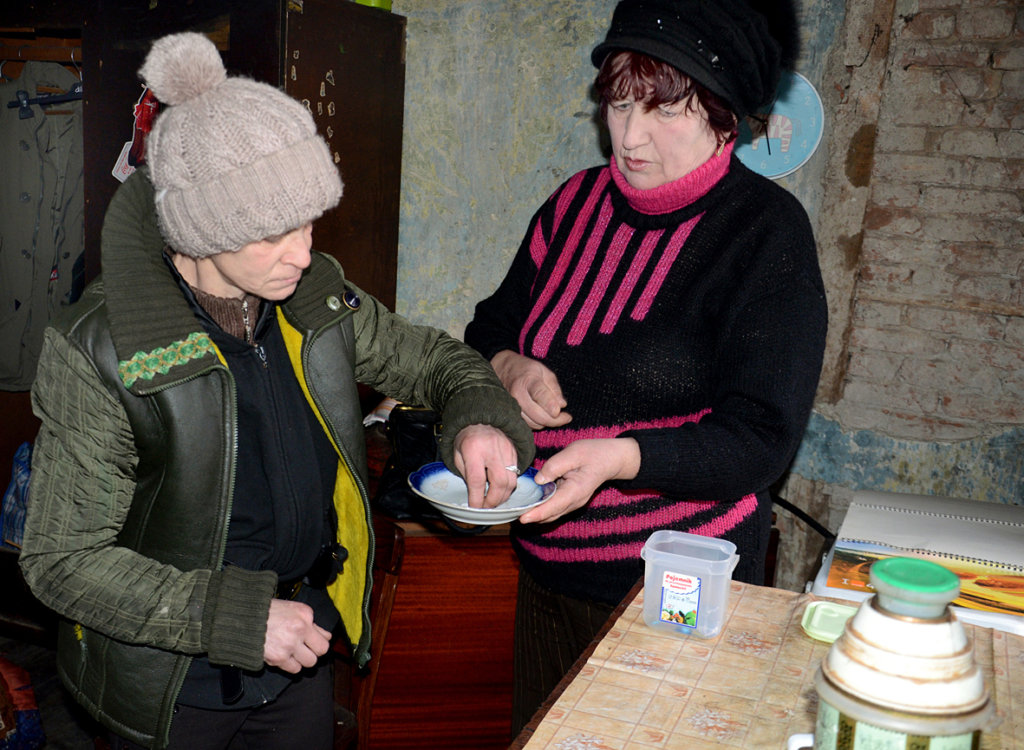 For Sergei and Liudmila, the past year brought them together and it brought a large dose of misfortune. They were diagnosed with drug-susceptible tuberculosis, the stove in their one-room house caught fire, vagrants kept entering through the unlocked door at night, their few clothes were stolen from the outdoor laundry line, and Sergei was injured badly when he fell riding a borrowed bicycle. Through these misfortunes, Galina and Igor of Speranta Terrei have been there, a constant and reassuring presence offering hope.
Sergei and Liudmila met at the TB dispensary in Balti. Sergei was under TB treatment when Galina brought Liudmila, who was homeless at the time, for a TB test. After Sergei broke his hand and leg in the bicycle accident in April, he could no longer go to the TB dispensary. Doctors asked Speranta Terrei's patient coordinator, Galina, and moderator, Igor, to give Sergei Directly Observed Therapy (DOT) at home. Galina and Igor found Sergei bedridden on a small divan in a decrepit house, without electricity or gas. Sergei was unemployed, having been retrenched from his job at the railway station. He had neither a pasaport (residency document) nor a health insurance card and, therefore, could not get medical care following the bicycle accident.
Galina and Igor, accustomed to poor and addicted patients, knew DOT was only the beginning. Liudmila suffers from alcoholism and Galina must use her characteristic stern touch to ensure Liudmila sticks to TB treatment. The attached photos show Liudmila taking anti-TB drugs from Galina and Galina checking the repaired stove, the only source for cooking and heating. Sergei has been cured of TB, but he cannot walk on his own. He has a pasaport and a health insurance card and can obtain medical care. Liudmila is ineligible for these documents because she is a Russian citizen, though she is eligible for free TB treatment in Moldova. Liudmila eats lunch periodically at Speranta Terrei's Centre for Tuberculosis Patients (photo) and takes food for Sergei to eat at home. Sergei and Liudmila say Galina's daily presence has been critical, "She is our protective angel, never abandoning us and showing us how to renew our lives."
This month Speranta Terrei introduces its new logo on the Global Giving page! The logo's designer is John Gravdahl, owner of Propeller Press (http://www.propeller-press.com) and professor at Colorado State University (http://art.colostate.edu/people/profiles/gravdahl/). The logo incorporates elements of traditional Moldovan artistic forms and features a double spiral, symbolizing balance and renewal. John selected the strong red colors to represent energy and the vitality of life.
We thank John for this vibrant logo and all that it represents for our patients and our organization. We thank our donors for their generosity so that we may give TB patients a chance to recover and regain the vitality of life.