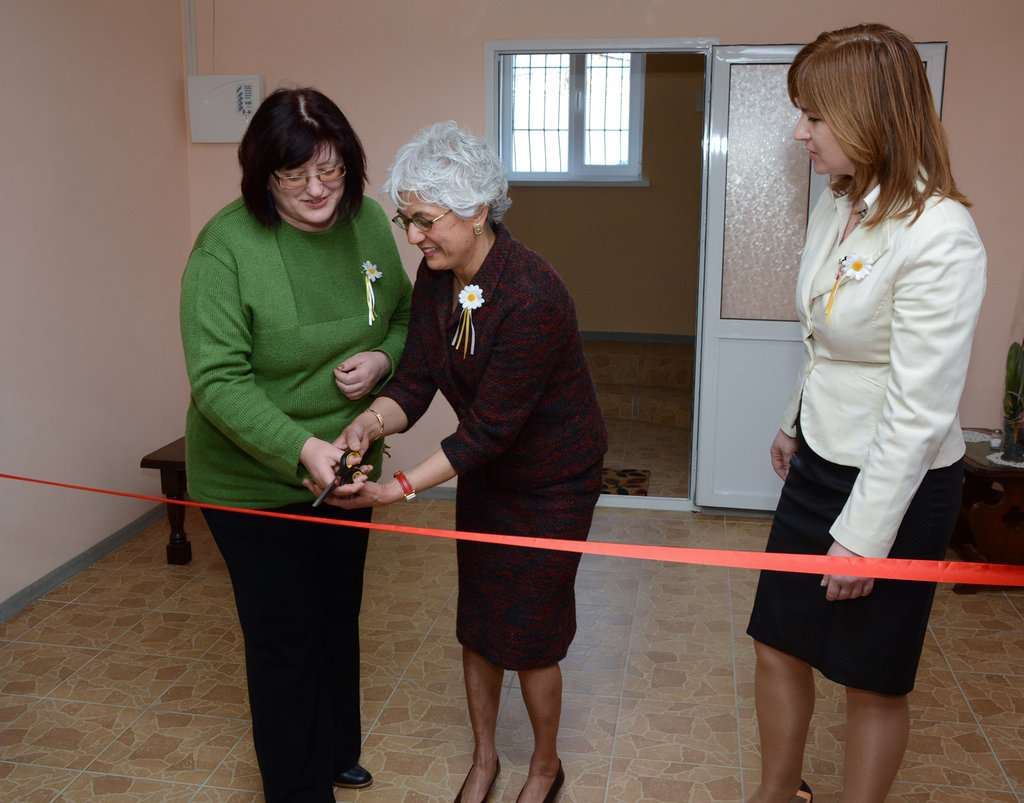 This year's World Tuberculosis Day was momentous for Speranta Terrei as we opened the renovated Centre for Tuberculosis Patients in Balti. Every year on March 24, we commemorate World Tuberculosis Day by distributing information about TB symptoms and transmission in Balti and in villages in northern Moldova. This year, we commemorated it by welcoming 70 guests to our newly renovated Centre!
At the ribbon-cutting ceremony (photo attached), Dr. Elena Boleac of the Ministry of Health spoke of the importance of addressing social as well as medical dimensions of tuberculosis disease. The Centre has rooms where patients are given counseling, treatment adherence support, and assistance with documents and where homeless patients can bathe and wash clothes. For Speranta Terrei's staff, the Centre is a comfortable place to work, conduct meetings, train moderators, and expand services to TB patients. Since the opening in March, 27 TB patients and family members have come to the Centre to participate in group discussions on TB stigma, complications of treatment, and social services available from local government.
The renovation of the Centre lasted a year and involved extensive repairs, such as replacement of decayed pipes, raising of the ceiling, and completely new heating and ventilation systems. The constructors and Speranta Terrei's staff went beyond the call of duty to ready the Centre for the opening celebration on World Tuberculosis Day. The attached photos show the guest table laden with traditional Moldovan bread and salt and our special young greeters with bags they presented to guests. TB doctors and public health and city officials at the ceremony agreed with the words printed on the bags, "Împreuna luptam împotriva tuberculozei!", "Together we fight against tuberculosis!"
The Centre's renovation was made possible through a project funded by the German government's agency GIZ and through donations sent via Global Giving. City Hall Balti allowed Speranta Terrei to establish the Centre in a municipal building adjacent to Family Physicians' Centre Nr. 1. We are grateful to them and to you for helping us to realize our longstanding goal of a convenient and welcoming place for TB patients and families.
Speranta Terrei is seeking funds to cover operations and maintenance costs of the Centre. New donations through GlobalGiving will be used for this purpose. From our busy Centre, we send thanks in advance for your continuing generosity towards TB patients.