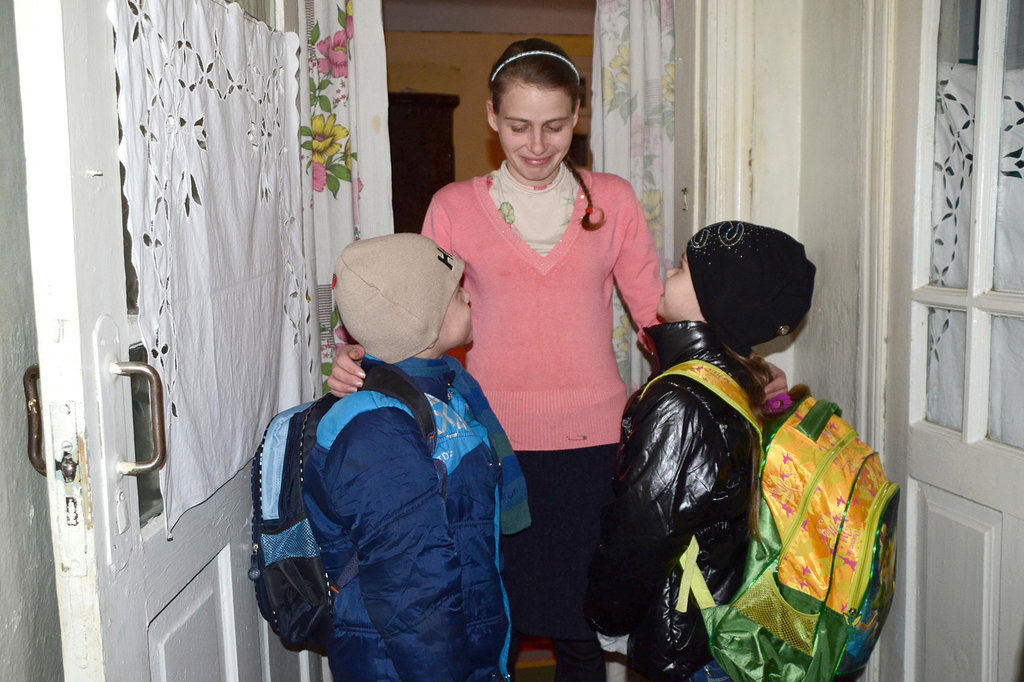 When you meet Galina in person, her spirit and confidence is more apparent than her hardscrabble background. In a Global Giving report two years ago, Speranta Terrei introduced Galina and her children when they were being treated for tuberculosis. Thanks to your donations, they have finished treatment and are rebuilding themselves. In the attached photos, Galina sends off her children to school on a recent rainy day.
Galina grew up on the streets of Balti, without a place to call home since she was 4 years old. Larger, older family members pushed her to panhandle and then collected her takings and doled out bits of food in the evening. From the age of 10, she was making small boxes from discarded banana cartons to sell for a few bani. Except for brief periods when her children were born, she was homeless for most of her life.
Speranta Terrei's moderator, Olga, was moved to act when she saw how Galina, her son, Cristi, and her daughter, Angelina, fared on the streets. Olga realized that TB treatment would not be effective if they remained hungry and cold and exposed to reinfection. Galina recalls Olga's daily visits for Directly Observed Therapy (DOT) and her kindness in sharing food and toys. She remembers the painful separation from her precious children during inpatient treatment at Balti TB Hospital, where she stayed in a room with 3 other patients for 2 months. Cristi and Angelina had to live at a children's home 7 kilometers from Balti and they cried with joy when they were reunited with their mother. Speranta Terrei guided Galina through applications for such social services as short-term housing and job training for tailoring.
Galina mends clothes to earn money and has become a moderator for 8 TB patients, 5 men and 3 women. Her own bout with TB makes it easy to persuade patients to adhere to treatment. She tells them "your life is in your own hands and you will be healthy if you respect this regimen." Speranta Terrei's patient coordinator, the older Galina, trained the younger Galina on community DOT and they visit each other's patients when illness or family duties interfere with their moderator's duties. The younger Galina still faces eviction from her rented apartment, but she is grateful for how far she has come and smiles and says, "I gained 2 kilos and my children are in school!"
In late October, many vivacious and talented singers and dancers joined Speranta Terrei to put on a charity concert at the Cultural Center of Balti. We express our gratitude to them and to the residents of Balti for raising their voices so that we could raise funds for the renovation of our Centre for Tuberculosis Patients. Galina, Cristi, and Angelina were in the front row in the concert hall and clapped along with us. They and we send you our bravos and wishes for good health in the new year. Un An Nou Fericit! La Multi Ani!