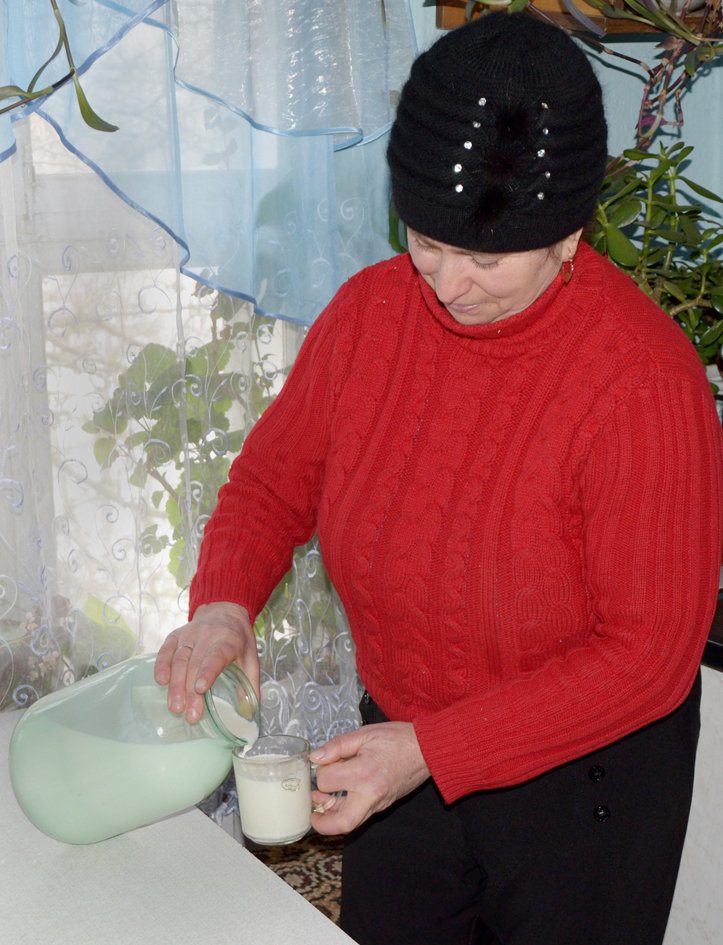 A cup of milk goes a long way! For Valentin Turcan of Soldanesti, the creamy milk in the attached photos symbolizes his recovery from tuberculosis. As happens to so many of his fellow Moldovans, Valentin sought to earn a living as a migrant construction worker and became ill with TB. Upon his return to Moldova, he was hospitalized in 2013 in Chisinau for intensive phase treatment for drug-susceptible tuberculosis and then went home to Soldanesti to continue treatment. There, he asked his moderator, Claudia, if he could go to her house instead of the dispensary to take TB drugs. Claudia, a medical assistant, agreed readily. Every evening, she greeted Valentin with his drug regimen along with a nourishing cup of milk from her own cow. Claudia says, "Even my husband became involved and reminded me to set aside milk for Valentin."
Valentin, who is 38 years old, is now cured of TB and ascribes his good health not only to drugs, but to Claudia. He is grateful, saying, "From the start, I was sure I would be healthy with her help, her kindness and the delicious milk." Claudia recounts Valentin was a compliant patient, who never missed an appointment, and was determined to overcome his illness. When the laboratory results at the end of treatment showed he was free of TB, they celebrated with a cup of milk.
Your donations, large and small, also have gone a long way. With great pleasure, Speranta Terrei reports that we have surpassed the project goal of 150 patients! Donations to our GlobalGiving project have allowed 31 moderators to give treatment support to 171 patients. Among these patients were 121 men, 47 women, and 3 children who had new as well as relapse cases of drug-susceptible and multi-drug resistant tuberculosis (MDR-TB). Speranta Terrei spent $15,433 on treatment support for these patients, made possible by your donations, as follows:
Personnel $3,135; Moderator Allowances $9,859; Rent $560; Audit Fees $390; Bank Fees $417; Computer $1,014; and Supplies $58.
Henceforth, your Global Giving donations will go towards the other goal of our project, renovation of a building to be made into a center for TB patients. Speranta Terrei has identified a run-down building in Balti. It needs heaps of work. We have a long way to go, but with your support, we are determined to reach our longstanding goal.
On behalf of all 171 patients, Speranta Terrei sends you a heap of thanks!