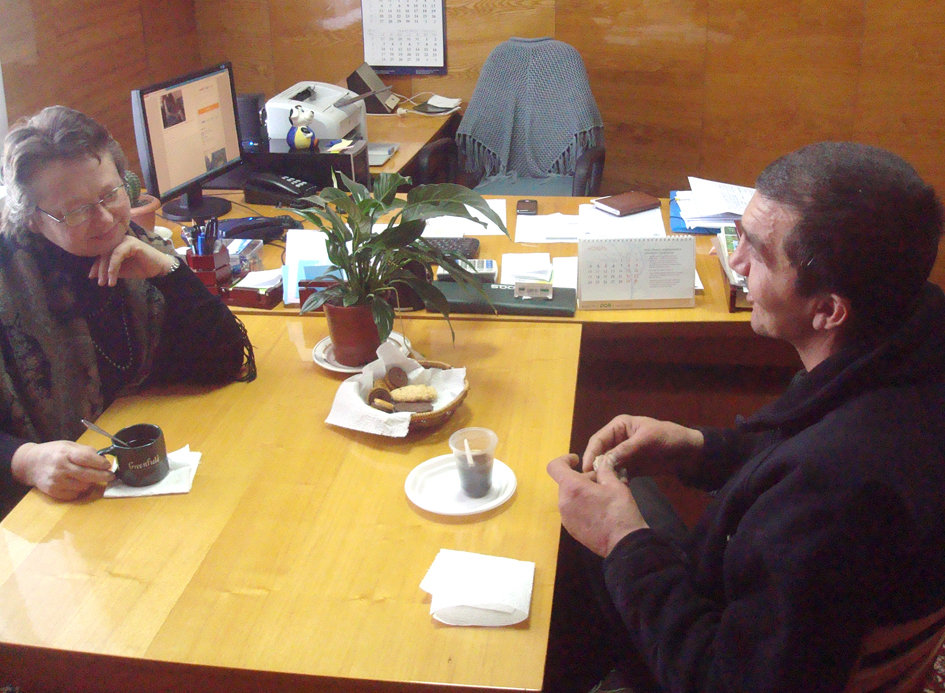 Serghei grew up an only child of parents who wanted the best for him and nurtured his talent for drawing. He earned a painter decorator degree in 1989, but his life turned upside down in the turmoil of the 1990s, in the wake of the Soviet Union's disintegration and ensuing socioeconomic collapse in Moldova and other former Soviet republics. Serghei abused alcohol and drugs and spent time in prison in the late 1990s and in the 2000s. And, he says he was in contact with fellow prisoners who were TB patients.
Following his last stint in prison, Serghei turned around his life, married and started a family and worked in a cement plant in Balti. On New Year's Eve 2011, after weeks of high temperature, Serghei felt he could not breathe and was taken by ambulance to hospital. At first, doctors diagnosed pleurisy, but treatment failed to improve his condition. When sputum results came back after 1 month, the diagnosis was changed to TB and Serghei was transferred to Balti TB Hospital. Doctors there treated him with first-line drugs for drug-susceptible tuberculosis, but sputum analysis after 1 more month indicated no response to treatment. Finally, sputum culture tests confirmed multi-drug resistant tuberculosis (MDR-TB) in March 2012, 4 months after his first diagnosis. Serghei was moved to the MDR-TB section, where he began treatment with second-line drugs and remained hospitalized for 8 months. He now receives ambulatory treatment and will complete MDR-TB treatment in February 2014. During the twists and turns of TB disease, Serghei's wife and five-year old son were a constant source of emotional support and reason to continue treatment. What Serghei feared the most was transmitting TB to his beloved son. He says, "I could face everything else as long as I know my child is healthy. If I thought I had given him TB, I would die."
Serghei lost his hearing as a side effect of TB drugs and asked Dr. Feodora Rodiucova, the president of Speranta Terrei, how he could obtain a hearing aid without payment because he lacked money. She helped him to fill forms for hearing aids available through the Balti Department of Health. You can see Serghei speaking to Dr. Rodiucova and Serghei with the hearing aid in attached photos.
As he looks towards New Year's Eve 2013, Serghei is relieved to be nearing the end of 24 months of MDR-TB treatment. Of the hearing aid, Serghei says, "To hear my son's laughter is joy. He asked me, Papa, can you really hear me and then laughed when I said yes." Serghei's artistic bent has been revived, giving him hope and a yearning to sketch again. In the New Year, Speranta Terrei will continue to bring hope to TB patients with your help. Un An Nou Fericit in Romanian, in Russian, and Happy New Year in English!