Project Report

| May 15, 2023
In the Northern Districts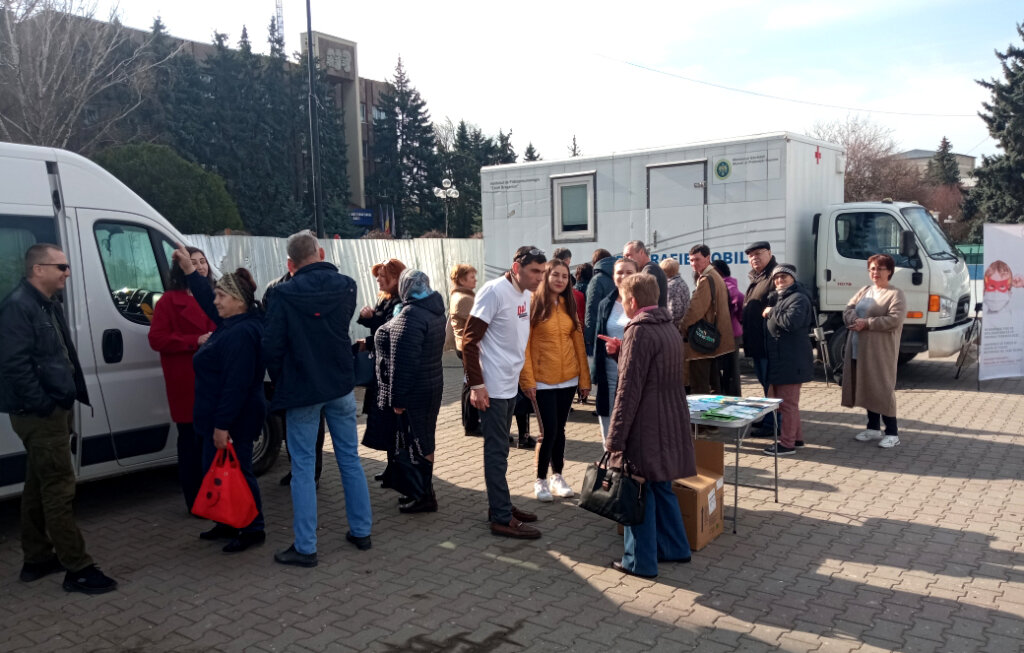 Speranta Terrei commemorated World Tuberculosis Day (March 24) along with other organizations in our city, Balti. We handed out booklets on the main square, in shops, and on public transport and we participated in a live televised discussion on tuberculosis (TB). We talked to residents about how TB is diagnosed and treated and we invited them for screening in a mobile x-ray van. Balti City Hall and the Institute of Phthisiopneumology in the capital, Chisinau, covered costs of the mobile x-ray van, which was parked in central V. Alexandri Square. Nurse Mariana reviewed screening questions and administered tests. Of 125 residents x-rayed, 7 cases of TB were detected and referred for confirmatory tests.
Because of the generosity of our GlobalGiving donors, Speranta Terrei started Directly Observed Therapy (DOT) for TB patients diagnosed through our screening program in the northern districts of Moldova. Speranta Terrei's president, Feodora (Dora), was adamant about this, saying, "we cannot just abandon patients, after we screen them and send them for diagnostic tests." In Ungheni district, doctor Gheorghe and nurse Lilia at the Center of Family Doctors of Kirilene village, review lists of residents to select vulnerable families for screening and x-ray exams. Bundled against the chill of late winter, doctor and nurse mark names for the next round of screening. The Center of Family Doctors is located in a gracious old but unheated building, making it quite uncomfortable for staff and patients in winter. In the first quarter of 2023, staff in Ungheni district screened 230 residents and detected 5 cases of TB among them.
Lydia is a nurse at the Health Center of Redenii Vechi village in Ungheni district. Daily, she takes TB medicine to three patients. Patient Viorica says of Lydia coming with medicine and advice, "it is much easier for me to stay with treatment, my husband has severe disability and we have three small children." Patient Nina takes a break from farm chores to take TB medicine when Lydia arrives. Lydia lives in the same village with her forester husband and says seeing patients in person and chatting with them in their own settings reveals their everyday pressures. Reducing these pressures gratifies her.
Speranta Terrei's media and outreach coordinator, Margarita, was inspired to write a children's book, The Tooth Fairy Comes to the Rescue, when her grandson asked her, "how do we get teeth and why do they fall?" Margarita remembered a counting rhyme from childhood, "take away a milk tooth, give me a bone tooth" and she wrote a story to teach good hygiene habits. A young artist, Anna, drew illustrations and doctors and designers added to the book. In March, Margarita was happy to present the book to children and young adults at the Phoenix residential home in Riscani, another district in northern Moldova.
Thank you for helping us to reach TB patients not only in Balti, but in surrounding rural parts of the northern districts.