Project Report

| Jan 19, 2023
Christmas Joy for Children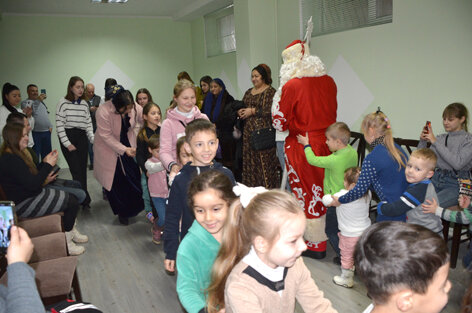 In mid-December, Speranta Terrei brought a bit of Christmas joy to Ukrainian children living in our city, Balti, and to Moldovan kindergarten children whose families have had tuberculosis (TB).
Our Centre for Tuberculosis Patients rang with laughter as Father Christmas entered the conference room, greeted children in his resonant voice, and said he could not have found his way without their calls. Pupils from Ion Creanga High School helped to organize Christmas parties at Speranta Terrei and a Christmas matinee at Kindergarten nr. 16, with funding from Solidarite Laique (https://www.solidarite-laique.org) and America House Balti (https://americahouse.md/america-house-balti/). They selected chocolates, games, puzzles, drawing pencils, and watercolors for children; they danced and painted, made puzzles and models with them. We are grateful to Solidarite Laique and America House Balti, to pupils, Daria, Elena, Maria, Nicoleta, Sabrina, Tatiana, Virginia, and Xenia, and to their teacher, Cristina, for joyous moments apparent in the photos.
A special thanks to our anonymous and inimitable Father Christmas, whose repartee with each child brought peals of laughter. He asked about their behavior, said what his magic bag told him, and then they tried to convince him they had been good and deserved a present. Father Christmas asked 6-month old Sveatoslav (Speranta Terrei's translator and Ion Creanga High School teacher, Irina, held him) "have you been a good boy, did you eat well, sleep well, let mama sleep, not cry at night?" Irina answered for Sveatoslav, "he is too small and has the right to be upset sometimes and cry" and Father Christmas handed him a present.
Balti is home to about 1,640 of 83,500 Ukrainians who live in Moldova after escaping war in their country. Lately, Ukrainians coming to Speranta Terrei's Centre are from Kiev, Vinitsa, Bucea, and Odesa. At the Christmas parties, Ukrainian children were shy at first, staying close to their mothers. The high school pupils and Father Christmas drew them out to dance and play games. They were reticent to say their wishes, not daring to ask Father Christmas for much, perhaps a few chocolates. They sang and recited Ukrainian songs and poems. Children and parents joined in when a boy gave a moving rendition of Slava Ukraini (Glory to Ukraine) and when they sang Ukrainian Christmas carols.
These Ukrainian children attend Moldovan schools or follow remote lessons taught by Ukrainian teachers. They say they like Moldova, but they miss home. The war made its presence when a seven-year old girl panicked when she noticed her mother was missing. Her mother had stepped out to make a phone call. The girl's reaction was so emotional that we felt her fear of being abandoned or losing her parents. She calmed down when her mother returned and reassured her, but the sentiment stayed with us.
As a legacy of Moldova's Soviet past, Balti has a kindergarten reserved for children who have had TB or whose family members have had TB. These children are under the care of TB doctors and they, along with all Moldovan children, are vaccinated with the BCG TB vaccine. Ion Creanga High School pupils gave a hand to teachers Tatiana and Valentina at Kindergarten nr. 16, playing parts in the matinee and presenting children specially designed boxes of Christmas sweets.
Thanks to our GlobalGiving donors, Speranta Terrei obtained matching funds on Giving Tuesday in November to sustain our TB treatment support programs and to maintain our Centre in good shape. We thank you for giving TB patients and Ukrainian refugees a chance to recover, to gather and feel welcome. In Romanian, we wish you, La Multi Ani! (Happy New Year!)