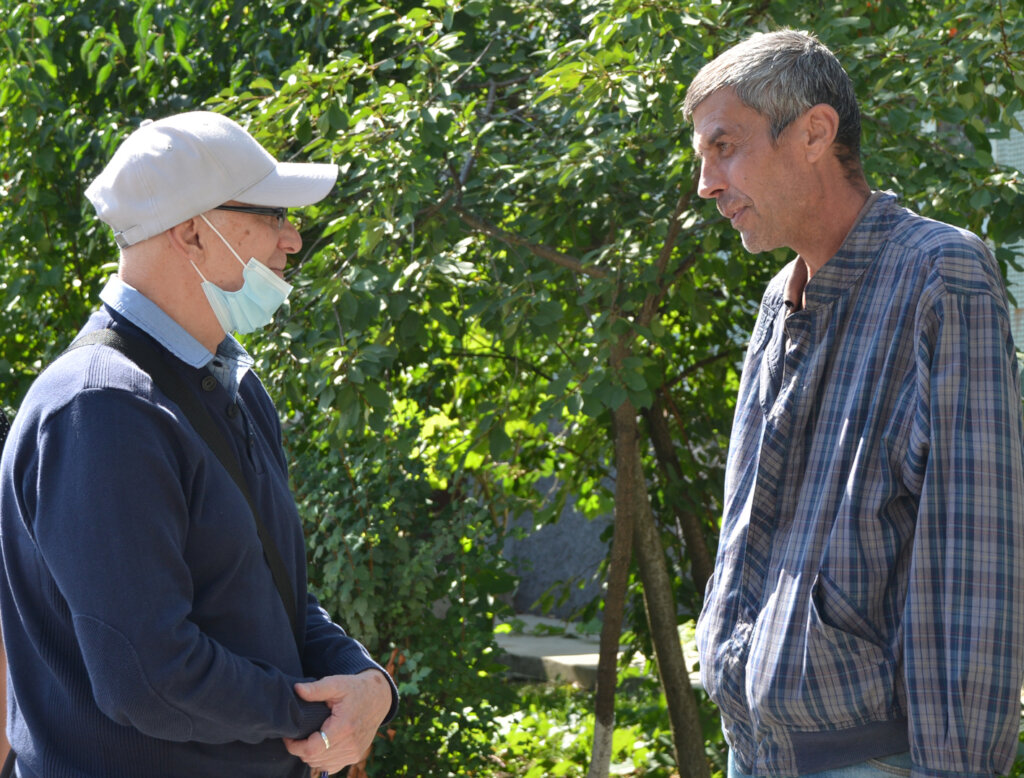 Speranta Terrei practices tuberculosis (TB) control from many angles, from supporting patients to stay on top of treatment to active case finding among high-risk populations. With widespread multi-drug resistant tuberculosis (MDR-TB) in Moldova, screening and identifying a case of TB is critical to reducing transmission and numbers of patients who fall ill with this preventable infectious disease.
TB patients we serve are mostly poor and depend on vouchers from the National Medical Insurance Company (CNAM) to purchase food during treatment. TB is another jolt in their unsettled circumstances. Speranta Terrei offers counseling along with Directly Observed Therapy (DOT) to help patients understand what treatment entails and to encourage them to continue prescribed drug regimens until they are cured. Valerii, our psychologist, accompanies Angela, our treatment supporter (moderator), on DOT home visits around our city, Balti.
Valerii counsels Vitalii, who contracted TB while in a penitentiary, a common occurrence in Moldova. After he was released, Vitalii's sister allowed him to stay in an apartment she owns. Because he was unable to pay bills, utilities were disconnected and Vitalii lives without electricity, gas, or heat. His only means of purchasing food are the vouchers.
Igori is another TB patient living in an unsanitary apartment. And, he and Vitalii share another unfortunate common occurrence among Moldovan TB patients, tobacco and alcohol addiction. Speranta Terrei sees how these addictions impede TB control, yet our organization does not have means to offer addiction counseling or treatment. Angela gives Igori sterile test tubes to collect sputum samples. He will carry his samples to the TB dispensary for his upcoming 5-month visit to monitor results of drug-susceptible TB treatment.
When Maria applied for a job at a public institution, mandatory chest x-rays at her family doctor's clinic led to a TB diagnosis. Maria's first thoughts were, "I do not want to infect my husband and my young daughters," who are 3 and 5 years old. She has been a compliant patient since March and is relieved to be completing treatment in November.
In cooperation with the health center in Calarasi district, Speranta Terrei is conducting TB screening under a CNAM project. Using a symptom questionnaire, staff visit residents at risk for TB, such as the homeless, the unemployed, those with low incomes or of Roma ethnicity. If their answers indicate TB, they are taken to the health center for x-rays. Staff explain to them about DOT and sign agreements on treatment support and confidentiality. Speranta Terrei distributes second-hand clothing and shoes to those undergoing x-rays. Since August, 310 Calarasi residents have been screened and 250 x-rayed. Four await further confirmatory TB test results.
As the war in Ukraine grinds on, we continue to distribute products to Ukrainian refugees at our Centre for Tuberculosis Patients. Sadly, one of our staff organizing distribution, Alla, passed away suddenly in August. We miss her capable and quiet help to those in need.
We are grateful to our GlobalGiving donors for their loyal support. On Giving Tuesday, which falls on November 29 this year, GlobalGiving will offer matching funds for online donations. On November 29, your and your friends' donations will go further towards TB control and refugee relief.