Project Report

| May 27, 2022
Coming Together for Ukraine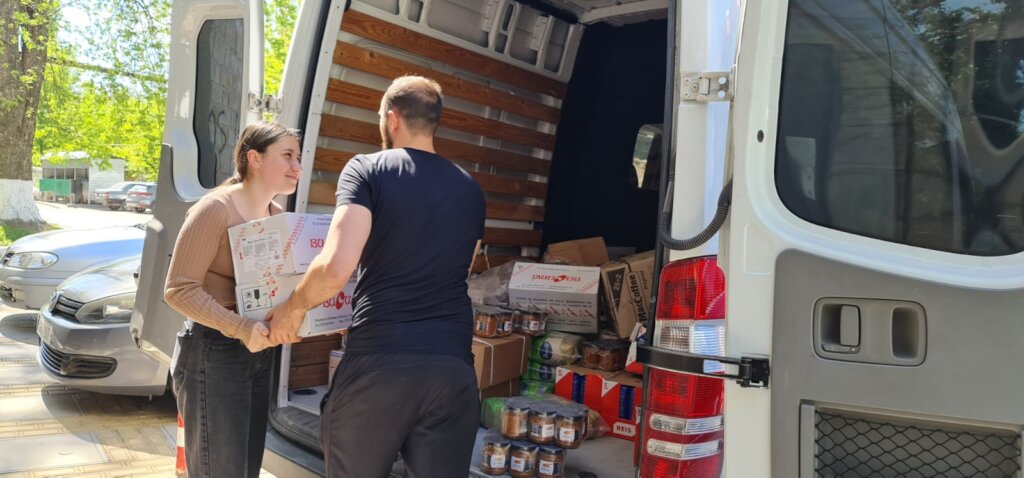 In February, our world was turned upside down with the invasion of Ukraine. Flows of refugees arrived on our doorstep, some in transit to more prosperous western European countries and some staying put in Moldova, closer to home. Ukrainians have been coming to Balti, our city in northern Moldova, from Odesa, Irpin, Kherson, Melitopol, Nicolaev, and Dnipro. Our national and local governments have mobilized to assist them, as have Speranta Terrei's staff, who fielded desperate calls from Ukrainians as the war began. Balti City Hall is housing about 250 refugees in hotels and student hostels and another 1,000 are living with Balti residents.
Moldova is a small, vulnerable country with the breakaway region of Transnistria right along the Ukrainian border. Transnistria hosts a Russian military base and ammunition depot and is not far from the Black Sea port of Odesa, shelled and blockaded these past weeks. Moldovans have opened their doors to Ukrainians and Speranta Terrei has opened its Centre for Tuberculosis Patients to distribute products to Ukrainians.
Thanks to our GlobalGiving donors and our partners, Ukrainians can select cereals, flour, cooking oil, milk, soap, baby food, diapers, and clothes at our Centre. They can come every 10-14 days to fill a box or bag according to their needs. We serve about 120 Ukrainians each weekday. Speranta Terrei receives products through David, a former Peace Corps volunteer in Balti, and local NGOs Healthy City and Friends of Moldova. The French organization promoting access to education, Solidarite Laique (https://www.solidarite-laique.org), gave Speranta Terrei funds to purchase basic necessities for Ukrainian refugees, such as coffee, tea, honey, towels, pillows, underclothes, t-shirts, and socks. Alla, Svetlana, and Valentina organize the products in our conference room and offices and keep track of the distribution. We are gratified to be a conduit of generosity towards our Ukrainian neighbors.
David transformed his closed restaurant in the capital Chisinau, BBQ Smokehouse (https://www.facebook.com/Smokehouse.Moldova/), into a depot and distribution hub for Ukrainian refugees. Miscoi of Healthy City and Gavarecki of Friends of Moldova deliver products from David's depot to our Centre and distribute at their own NGOs. On a sunny spring day, Miscoi's high-school aged daughter, Albina, gave Gavarecki a hand in unloading at our Centre.
Amidst the Ukraine crisis, "we have not forgotten our main purpose, controlling tuberculosis," says Speranta Terrei's president, Feodora. Moldova and Ukraine share not only borders, they share high rates of multi-drug resistant tuberculosis (MDR-TB). Speranta Terrei has continued to screen high-risk groups for TB and to give Directly Observed Therapy (DOT) to TB patients.
On the outskirts of Balti, our treatment supporter (moderator), Angela, administered TB drugs to Vasilli, Maria, and Olesia and answered their questions, encouraging them to persevere until the end of treatment. Vasilli is undergoing prolonged treatment for MDR-TB and expressed his thanks for Angela's visits, saying, "Angela is our angel and her name signifies this."