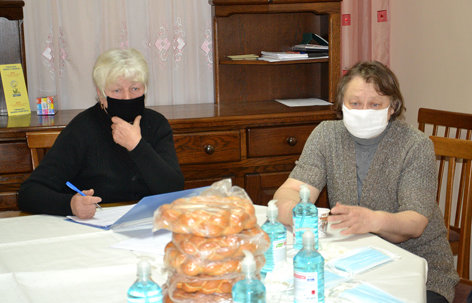 Speranta Terrei is screening vulnerable groups for tuberculosis (TB), an important step in finding and treating undiagnosed TB cases and thus in stopping transmission. We are screening contacts of TB patients and persons who are homeless, low-income, and of Roma ethnicity under a Global Fund project that Center PAS administers. We started in Balti municipality and neighboring Falesti district and will add residents of Riscani and Ungheni districts in north Moldova.
Speranta Terrei's long-time moderator, Galina, is experienced in outreach and treatment support to the homeless. She visits places where they live in Balti, explains TB symptoms and diagnostics, and encourages them to be screened. She invites three persons at a time to Speranta Terrei's Centre for Tuberculosis Patients to eat, wash themselves, and select clothes, all with social distancing and COVID-19 precautions in mind. Claudia, Vladimir, and Serghei said they were glad to come to the warm Centre, out of the February cold. Feodora, Speranta Terrei's president, and Galina posed the questions on the Moldovan TB screening questionnaire. Because their answers met the criteria for x-ray screening, Feodora gave them masks, gloves, and hand sanitizer so they could enter the clinic for x-rays. After they left, Elena, the cleaner at our Centre, sanitized surfaces thoroughly, as she does after visitors.
Alexandr, who keeps Speranta Terrei's van in tiptop shape, drove Claudia, Vladimir, and Serghei to the clinic to be x-rayed and then dropped them at "Reintoarcere". Balti municipality's social assistance department and Speranta Terrei helped to reserve space at this temporary housing centre. A few days later, Speranta Terrei received x-ray results and Galina recorded the results and informed Claudia, Vladimir, and Serghei. Although none of them were diagnosed with TB, their x-rays indicated other respiratory and cardiovascular conditions. If doctors recommend further TB diagnostic tests, Speranta Terrei will assist them with these. For screened persons who are diagnosed with TB in Balti, we assign moderators to give Directly Observed Therapy (DOT) to support the vulnerable through treatment.
Our Galina suffered profound loss last March, when her beloved and only child, Igor, passed away at the age of 35. Igor receiving TB treatment support from a Speranta Terrei moderator had inspired Galina herself to become a moderator, a role in which she is so effective that new patients ask for her by name. Galina says, "I mourn Igor every day and giving solace to needy TB patients consoles me." Igor was himself a moderator at Speranta Terrei, mother and son together giving treatment support and leading discussions in the patient group, called TB Club.
We thank you, our donors, and we thank GlobalGiving for matching donations on Giving Tuesday, last December. Your donations make our Centre for Tuberculosis Patients functional and a place where the vulnerable are welcome.