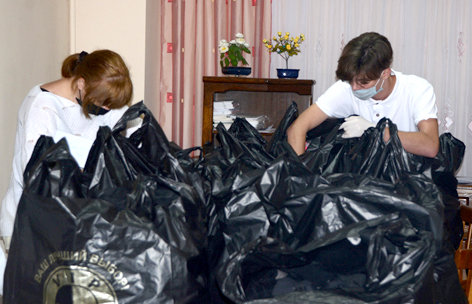 Back in January and February, students at Ion Creanga High School in Balti gathered clothes, toys, games, notebooks, and pencils for children in families undergoing treatment for tuberculosis (TB). The high school students planned to distribute these donations on World Tuberculosis Day on 24 March in cooperation with Speranta Terrei's annual commemoration to raise awareness of TB and TB patients. When the COVID-19 lockdown came into effect in Moldova in mid-March, schools and offices closed and gatherings cancelled. Speranta Terrei and the high school students abandoned plans for World TB Day and waited for an opportune time to give the donations to children.
Ion Creanga High School has an exchange program with a high school in France, Lycée Jean de Lattre de Tassigny, in La Roche sur Yon and had to abandon as well a visit planned for Easter holidays. The teachers and students at Lycée Jean de Lattre de Tassigny had collected funds and at the behest of Ion Creanga High School's teachers and students, they donated these funds through GlobalGiving to Speranta Terrei. Thanks to their generosity, Speranta Terrei purchased sanitary supplies for children in tuberculosis families and organized an activity in September to distribute these and the clothes and toys.
Many Ion Creanga students volunteered for the activity, but the head master gave permission to only two students, Vlad and Diana, and their French and English teacher, Irina, to limit exposure. Speranta Terrei's staff and Ion Creanga's teachers gathered extra donations after they saw the final list of children from Speranta Terrei's moderators (treatment supporters). Altogether, 23 children, ages 9 months to 18 years, along with their parents came to Speranta Terrei's Centre for Tuberculosis Patients. Speranta Terrei's president, Feodora, explained to them how TB is transmitted and how to guard against COVID-19 with proper placement of masks and social distancing. Then, Vlad and Diana handed the bags of donations to each child.
The children and their parents were grateful for the donations and for the diversion from economic worries. TB had interrupted their jobs, then the pandemic brought more hardship with factory, transport, and school closures and heightened fears of infection for those with an underlying respiratory disease, tuberculosis. Moldovan schools opened in September and students attend separated sessions in morning and afternoon or in-person and online on different days of the week.
Children at the activity asked, "when are we going to have a day of fun games as we did last year?" Sadly, Vlad and Diana had to answer that such gatherings were forbidden at this time. The mother of five-year old Serghei called her moderator, Angela, to say how well the shoes and clothes fit him and to express her thanks. Sadly, days later, Serghei's mother was hospitalized and passed away. We at Speranta Terrei and Ion Creanga High School are in profound sorrow at this terrible turn of events for young Serghei, his mother, and his family.
Speranta Terrei would like to thank our many donors, whose generosity brings relief to TB patients and their families.