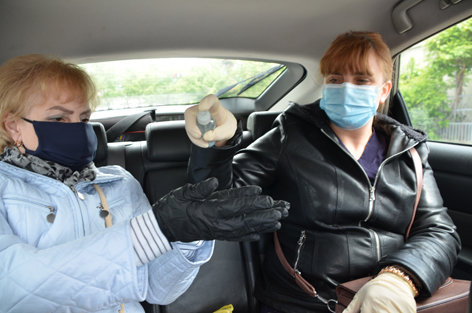 The COVID-19 pandemic has hit hard in Moldova and in our home city, Balti. Medical staff are exhausted, many infected and isolated in quarantine. Lockdown measures against the pandemic went into effect in mid-March. These measures endangered tuberculosis (TB) control and Speranta Terrei stepped in to increase treatment support for TB patients. A micro-grant from GlobalGiving and contributions from our GlobalGiving donors allowed us to take on 23 extra patients for community-based Directly Observed Therapy (DOT). We send you our and our patients' profound thanks for giving us funds to continue treatment support to TB patients.
Under lockdown restrictions, public trolley busses stopped running and Balti residents were obliged to stay home. Doctors and nurses at Balti TB dispensary told TB patients to continue to come for anti-TB drugs, yet their weakened immune systems put them at higher risk of infection. Most of these patients gave up on treatment and refused to go to the dispensary. Doctors feared for their patients' health and for the consequences of increased community TB transmission in the midst of the pandemic. Speranta Terrei acted on the doctors' requests, arranged transport for moderators (treatment supporters) and equipped them with masks, gloves, and sanitizer.
Every day, Lidia and Vera and other moderators take separate, marked packets of anti-TB drugs for each patient and take along the form for the patient to sign after taking the drugs. On this day, Lidia and Vera visited 7 patients in one part of Balti. After they returned to the dispensary, other moderators went out to another part of the city. Lidia and Vera say, "we are proud to help these patients that risked to be forgotten during the pandemic."
For two of the patients, both named Andrei, Lidia and Vera went to their houses to give them DOT. Both men named Andrei have drug-susceptible TB. They said how thankful they were for being able to continue TB treatment at home. Andrei in photo 4 said, "This way I avoid contact with people and avoid risk of COVID infection. I am close to finishing treatment and I will finish it in Lidia's and Vera's care."
Vitalii has the more serious multi-drug resistant TB (MDR-TB) and a relapse case of it at that. He was homeless for many years and abused alcohol. A year ago, he met a woman who offered him shelter and food and this was an impetus for him to overcome alcohol abuse and to pay attention to his health. Each day, Vitalii walks over to meet Lidia and Vera at a place near where he lives. After 18 months of treatment, Vitalii has another 3 months to go and he is relieved to finally reach this point.
At Speranta Terrei, we are committed to controlling TB and are terribly concerned about the interruption in TB diagnostic and treatment services during the pandemic. But, we are relieved to continue giving vulnerable patients a way to reach the end of treatment and cure during the lockdown.