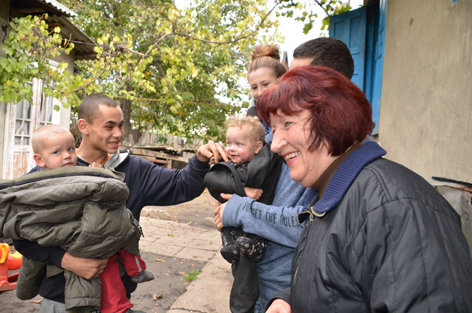 Speranta Terrei's long-time treatment supporter, Galina, sees joy and pain in an afternoon of home visits to tuberculosis (TB) patients in Balti. On a recent day in October, Galina looked in on two children who completed prophylaxis treatment; gave their grandmother who has drug-susceptible TB her daily regimen of drugs; and gave a paralyzed multi-drug resistant tuberculosis (MDR-TB) patient his daily regimen of drugs. At each stop, she showed her distinctive blend of empathy and firmness towards her charges, who welcomed her presence and her words of advice.
Her first stop was to see how one-year old Dan and his two-year old brother, Pasa, were faring a month after their treatment ended and they had a final x-ray. The boys live with their father, Ruslan, mother, Ina, and other family in a decrepit apartment with no running water, electricity, or heat. Galina says, "Dan and Pasa gladly took the drugs, they held out their little hands for the spoon where I put their half-pill dose." Dan was all smiles when he saw Galina. She said it was not easy to find the family. When the TB dispensary doctor requested Galina to give them Directly Observed Therapy (DOT) as contacts of their grandmother, the family had moved. Galina had to sleuth around Balti to find them. Having been a treatment supporter (moderator) for 13 years with Speranta Terrei, Galina can find her way to any needy TB patient in Balti.
Her second stop was the grandmother, Rosalina, who had TB 15 years ago and then was diagnosed again last autumn. She fell ill one night, had difficulty breathing, and was taken in an ambulance to the hospital. Rosalina says, "I was in the hospital for 3 months, I had pills, injections, and infusions and then the doctor said to me, you have TB." Rosalina praised Galina for her steadfast help, referring to her as Mama Gala. On top of TB, Rosalina has severe tooth decay. Because of intense tooth pain and lack of money for dental treatment, she extracted her own teeth and damaged her mouth and face while doing this.
Galina's third stop was Mihail, who had interrupted treatment 4 years ago when he was diagnosed with TB the first time. Last year, he was hospitalized following a stroke and this time the diagnosis was the more serious form, MDR-TB. He was sent to Vorniceni, the specialized MDR-TB hospital in Moldova, for 8 months. Since he returned to Balti in March, Galina has been bringing him anti-TB drugs. His current regimen consists of 7 pills and 2 powders and Galina mixes the powder with water and Mihail takes the cup with his usable left hand. He did not have rehabilitation therapy after the stroke and the right side of his body is paralyzed. He says, "my brother comes to help me and brings me food." His brother had a TB test and, thankfully, the result was negative.
As she was leaving Mihail's house, Galina was still smiling. She says, "Yes, I see a lot of need. If Dan, Pasa, Rosalina, and Mihail beat TB, then I will have done my part." Speranta Terrei is able to send out Galina on her rounds of TB patients thanks to your donations. We wish you, our donors, a Happy New Year, Un An Nou Fericit!