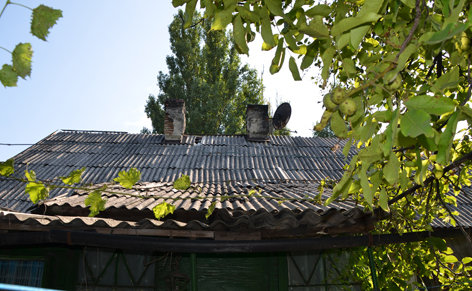 Tuberculosis is only one of Nelli's daily concerns. Her roof is in danger of collapse and her meagre pension is insufficient for food, let alone a costly roof repair. Nelli has multi-drug resistant tuberculosis (MDR-TB) and spent three months at Vorniceni, the specialized MDR-TB hospital in Moldova. When she returned to Balti to continue ambulatory treatment, Speranta Terrei offered her counseling and treatment support.
Speranta Terrei's social assistant, Viorica, helped Nelli to write a form to request assistance from Balti municipality to repair her roof. Nelli says, "My roof is falling, rain drips through holes, I am worried with autumn and winter coming." Nelli is a widow, her husband died 10 years ago and she lives alone. TB and a poor diet have led to fragile health and she fears a cold, damp winter will make it worse. Nelli comes twice per week to Speranta Terrei's Centre for Tuberculosis Patients for psychological counseling. The doctor at Balti TB dispensary asked Speranta Terrei to assist because Nelli did not want to continue the two-year regimen of anti-TB drugs with their attendant side effects. Because of the resistance pattern of the particular strain of TB she has, Nelli cannot take first-line drugs and even some second-line drugs. She says of counseling, "it made me more confident, I understood I could be cured if I finished treatment." Eduard, her counselor, has sensed her willingness to persevere grow since she began counseling two months ago.
Nelli's neighbor, Oleg, and his wife watch over her, but their living conditions are similar. Oleg and his wife have a daughter who left long ago to work in Russia, as have many other Moldovans facing dire economic prospects at home. Oleg was treated for TB in prison 15 years ago and last year he was diagnosed with MDR-TB. Oleg and Nelli go together to Speranta Terrei's Centre to speak to counselors and to apply for social assistance. Speranta Terrei's treatment supporter (moderator), Alexandra, visits them at home to give Directly Observed Therapy (DOT) and to encourage them to continue treatment.
Nelli, Oleg, and the rest of us at Speranta Terrei thank you for contributing towards support for vulnerable TB patients. Our counselors, moderators, and social assistants strengthen patients' resolve to be cured and try to allay their concerns. Speranta Terrei's own Centre was damaged from heavy rains in June. A renovation company has started repairs and plans to finish before the onset of cold weather. We will keep helping Nelli to find a way to repair her roof and to finish treatment.