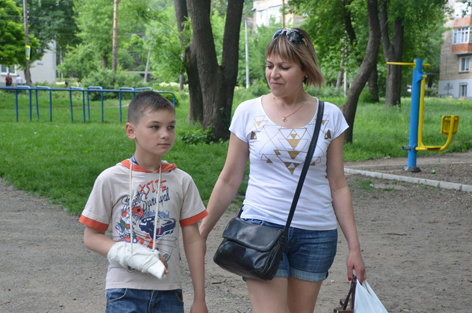 Thanks to our regular GlobalGiving donors, Speranta Terrei can count on giving treatment support to tuberculosis patients from start to finish. We are especially grateful to donors who give every month to our programs.
A year ago, we reported on nine-year old Vladislav, who was undergoing lengthy treatment for multi-drug resistant tuberculosis (MDR-TB). Now a year later, we are pleased to report ten-year old Vladislav will complete TB treatment at the end of June. Last September, he was able to return to school.
After his doctors adjusted his treatment regimen and the painful injection part of the regimen concluded, Vladislav started to feel fewer side effects. He no longer vomited or felt dizzy after taking medication. His doctors said he could be given medication at home and his daily visits to the TB dispensary could end. Speranta Terrei replaced his moderator Angela with Liudmila, who was able to take anti-TB drugs to his home for Directly Observed Therapy (DOT).
At the beginning of the last school term, Vladislav returned to the same school he had attended before he had MDR-TB. He recently graduated the third form. Although he is happy to return to school, he can sense his classmates are afraid to be near him. Some even say offensive words. Vladislav knows studies are important and he wants to be in school. He says, "I want them to forget I had TB and treat me normally." Vladislav is not infectious, but TB carries a heavy stigma for patients in Moldova and people avoid them from fear of being infected.
Fortunately, Vladislav has friends in his neighborhood and often plays with them. He likes active games, games full of running and jumping, and this is how he broke his right arm. Seeing Vladislav brimming with energy, Liudmila took him to a park to play after a recent DOT visit (photos).
Liudmila says, "Vladislav is close to my son's age and they became friends. We are so happy he withstood treatment and recovered from MDR-TB."