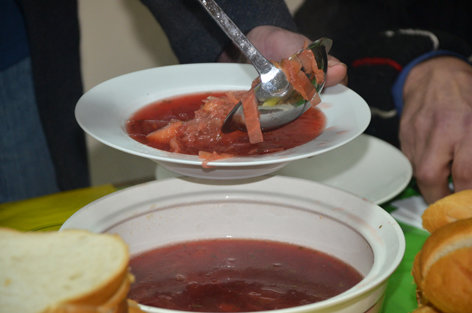 Donations through GlobalGiving are critical for our Centre for Tuberculosis Patients to remain open through the winter. Speranta Terrei economizes and watches the thermostat, but heat, electricity, and water expenses have soared in recent months. Since December, our staff has been preparing and serving hot lunch to homeless persons at our Centre three times per week. This supports Speranta Terrei's program of active case finding for tuberculosis among the homeless, a group at high risk for contracting TB. "We screen them for symptoms and take them for diagnostic tests at the TB dispensary", explains Galina, who has a special rapport with the homeless of Balti after 12 years of conducting outreach among them. She finds them near garbage bins and outside churches, where they scavenge for food and clothing to ward off the cold.
Galina asks them as well about their acquaintances, if any of them have persistent cough or fever, if they need to be examined. When a homeless person is diagnosed with TB, Galina and other Speranta Terrei moderators (treatment supporters) give them Directly Observed Therapy (DOT), bringing medicine from the TB dispensary and observing them ingest it.
On a cold February day, homeless persons who had undergone TB control to rule out infectiousness came to Speranta Terrei's Centre for Tuberculosis Patients to warm up and fill up with steaming borscht and pelimeni (photos). The Moldovan soup and dumplings served at a dining table were a rare respite from scavenging for food. Alexandr (in photo) said, "To smell and eat fresh food you made, we thank you. These are the only hot meals we eat and we have not eaten so well for a long time." The homeless related stories of being evicted from apartments or returning from a stint of migrant labor in other countries to find their family and house were no longer theirs. Some of the homeless stay temporarily in an overnight shelter called Reintoarcere, others are constantly out in the cold, on the street.
After lunch, Speranta Terrei's president, Dora, talked to them about how to prevent TB transmission and where and how to consult a doctor if they develop TB symptoms. The vice mayor of Balti, Mr. Smulschii, has expressed his appreciation to Speranta Terrei for controlling TB among the homeless. He said homeless citizens have told him, "the hot lunches make a big difference in our lives".
Speranta Terrei's staff are grateful for your contribution to the operation of our Centre. This Centre is a place to combat TB and to offer the homeless a hot lunch on a cold day.