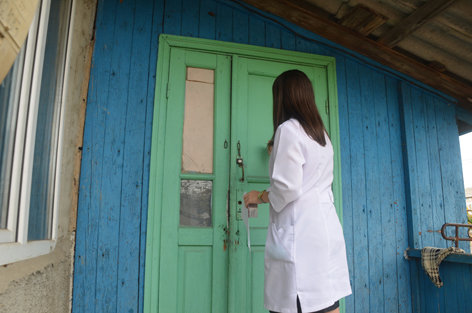 Anna says, "I cried for three days when the doctor said I had TB, I was shocked." She was at a hospital in the capital, Chisinau, and the doctor had confirmed the diagnosis through bronchoscopy. Earlier x-ray and sputum tests had not been confirmatory for tuberculosis and Anna had thought her fever and cough were due to a cold. The doctor tried to reassure her, telling her, "it is not the end, TB can be treated." Hearing those words sparked Anna's decision, she set herself the goal to be treated and cured of TB.
Anna has multi-drug resistant tuberculosis (MDR-TB), requiring longer, more painful and more toxic treatment than drug-susceptible TB. In March, she started a daily regimen of 22 pills and an injection. For three months, she suffered severe side effects, vomiting and aches in her shoulders, arms, and back. She reminded herself of her goal and did not give up on treatment. Dr. Vladimir at the polyclinic in Sadovoe, where Anna lives on the outskirts of Balti, and Dr. Aliona at the TB dispensary in Balti, reviewed and adjusted her drug regimen. This eased Anna's side effects and she started to recover. She says, "I stopped vomiting and regained 4 kilos". At the end of October, she endured her last painful injection and her daily regimen is down to 12 pills and 2 packets of powder.
Throughout the anguishing TB treatment, Olga, a medical assistant at the Sadovoe polyclinic, has assisted Anna as her moderator, with the support of Speranta Terrei. Olga goes to Anna's house 6 days a week with pills, powders, and injections (photos) and takes word back to Dr. Vladimir on Anna's condition. In only her second year as a medical assistant, Olga notes with equanimity, "I explained Anna's side effects to Dr. Vladimir and he conferred with Dr. Aliona and during Anna's next TB control visit, they changed drugs and added a drug to reduce liver toxicity". Olga's visits have kept Anna directed towards her goal. Anna need not walk to the polyclinic when she is drained from TB drugs and she can lie down at home after injections. She remarks on Olga's attentiveness, "She sensed me wincing from injections and said she was sorry to inflict those on me."
Because Anna worked at a bread factory in Sadovoe, Olga and Dr. Vladimir had another job on their hands, screening the factory's workers for TB. Thanks to a TB awareness campaign Speranta Terrei had organized earlier, Olga and Dr. Vladimir had given information on TB to Sadovoe's residents. Following Anna's MDR-TB diagnosis, Olga went to the home of each bread factory worker and screened the family for TB symptoms. For those answering yes to three TB symptoms, she gave an x-ray prescription. Speranta Terrei arranged its van and driver to take 118 bread factory workers and family members for x-rays at the TB dispensary in Balti. If x-ray results indicated it, they then underwent sputum tests. From this systematic screening, Olga and Dr. Vladimir identified two more cases of MDR-TB in Sadovoe.
Thanks to your Global Giving donations, Speranta Terrei can bolster Anna's chances of reaching her goal of being cured. And, it can detect more TB cases and give those patients a chance to start treatment and not infect others. We wish our donors Happy New Year, in Moldavian, An Nou Fericit!