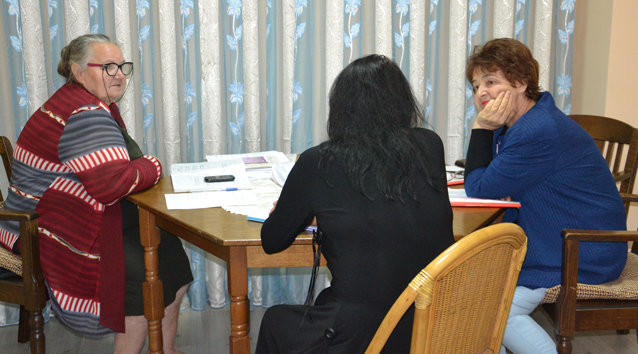 Tuberculosis is the reason Marina and Alexandra met and now they are friends.
Marina was diagnosed with multi-drug resistant tuberculosis (MDR-TB) and was hospitalized for two months during the initial phase of treatment. When she came home to continue ambulatory treatment, she felt weak. Then, she found out she was co-infected with Human Immunodeficiency Virus (HIV). Marina had watched her alcoholic husband interrupt MDR-TB treatment and she was determined to complete treatment, become well, and take care of her children. She asked for a moderator (treatment supporter), who could bring her TB medicine at home. Speranta Terrei sent Alexandra, who began to give Marina treatment support in 2014.
Marina left her husband and moved to her parents' house along with her teenaged daughter, to protect her from being infected. Marina expresses gratitude for her parents and relatives who tended to her and her younger daughter during the lengthy MDR-TB treatment. She praises her moderator, Alexandra, for coming daily with TB medicine, ready to answer questions and to watch Marina take medicine, according to the tenets of Directly Observed Therapy (DOT). Alexandra in turn praises Marina, saying "She was a diligent and responsible patient, she consulted the doctor systematically and followed her treatment regimen." Alexandra adds, "she is a caring mother as well as grandmother for her elder daughter's child."
After two years of treatment, Marina was cured of MDR-TB. She found a job as a postwoman, a job she says she loves and that suits her. "I am a friendly and sociable person" says Marina, "I have many friends among people I deliver the post to, they wait for me to arrive."
She counts her moderator Alexandra among her best friends. They call each other and ask about the other's health and family. Recently, Alexandra arranged for Marina to meet Sofia at Speranta Terrei's Centre for Tuberculosis Patients. Sofia works at the Balti TB community center and follows up on patients who have been treated for TB. In the photos, they are discussing Marina's last medical check-up results. Marina is free of TB, but she continues treatment for HIV. Marina spoke happily about her younger daughter, who is healthy.
Speranta Terrei would like to thank you, our Global Giving donors. Your donations pay for an allowance to cover meals and transport for moderators, moderators who support TB patients through treatment and along the way form friendships.