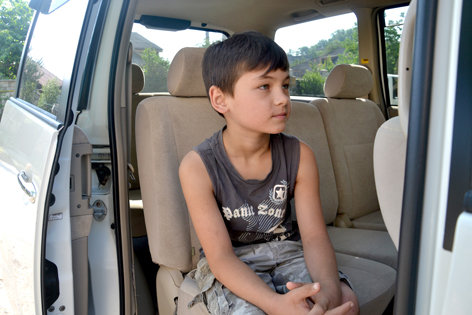 Vladislav did not stand much of a chance to escape tuberculosis given his prolonged exposure to relatives with this infectious disease. His grandparents and parents all had multi-drug resistant tuberculosis (MDR-TB), which is widespread in Moldova. As a close contact of TB patients, Vladislav was tested for TB and, alas, the diagnosis was MDR-TB. At the tender age of 9, Vladislav is undergoing the prolonged and grueling daily regimen of 5 anti-TB drugs.
His treatment began 14 months ago, with a 6-month stint at children's hospital in the capital, Chisinau. During the intensive phase of treatment at the hospital, he endured painful injections. When he returned home to Balti for continuation phase treatment, Speranta Terrei arranged for Angela to be his moderator (treatment supporter), to bring him anti-TB drugs and conduct Directly Observed Therapy (DOT) at home. Because Vladislav suffers severe side effects from anti-TB drugs, his doctors, Lidia and Elena, insisted on monitoring him daily at the TB dispensary. This was not an easy task for his family, afflicted with conditions common in Moldova, poverty and alcoholism. Vladislav's father abuses alcohol and is unable to take his son daily to the dispensary. Vladislav's parents are divorced and his mother lives elsewhere with his older sister.
Angela, Vladislav's moderator, asked Speranta Terrei if Vladislav could be taken every day in the van Speranta Terrei has, a van thanks to another moderator, Galina, winning the Kochon Prize last year. Speranta Terrei agreed readily because of how vulnerable Vladislav is. He sometimes vomits the pills, he has headaches and dizziness, and faces a high risk of abandoning the two-year long MDR-TB treatment.
The attached photos show Vladislav's daily odyssey of MDR-TB treatment. In the morning, Speranta Terrei's driver, Alexandr, picks him up for the ride to the dispensary. Vladislav knocks on the door of the DOTS cabinet. Angela prepares the pills, crushing ones too large for him to swallow and mixes these in a glass of water. Vladislav holds his nose while swallowing the pills because, he says, "it is easier to get them down my throat".
Dr. Elena checks Vladislav after he has taken the anti-TB drugs, listens to his lungs and enquires about side effects. When she gives him the all-clear, a relieved Vladislav heads home. Unfortunately, he does not have other outings than the dispensary. He does not attend school or play with other children. He is isolated because children and their parents fear TB infection. Children at school knew he went to the hospital for TB and were aggressive towards him and he is afraid to interact with other children. He languishes at home watching cartoons and playing games on a phone. Vladislav says, "I know TB is dangerous and the treatment is long and hard to bear, but if I do not follow it, I may die." He follows his treatment and hopes to be a healthy child once again.
From Speranta Terrei and Vladislav, we send thanks to our Global Giving donors for making it possible to give special assistance to young, vulnerable TB patients.