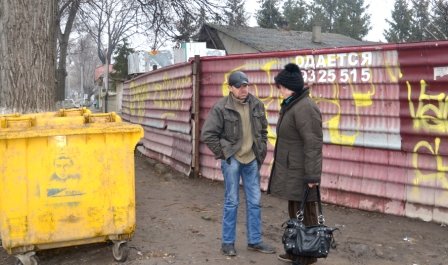 Victor was diagnosed with drug-susceptible tuberculosis three years ago. Speranta Terrei's long-time moderator (treatment supporter), Galina, found Victor and his brother, Nicolai, while they searched through garbage bins for food. She took them to the TB dispensary for a diagnostic test and the result was positive. As their moderator, Galina brought them anti-TB drugs and took them to follow-up tests until they were cured 8 months later. Since then, she has taken them systematically for chest x-rays, the last time in August.
On a recent rainy day in March, Galina gathered Victor (see photos) and other TB patients to invite them to Speranta Terrei's Centre for Tuberculosis Patients in Balti. She asked them about TB symptoms, whether they had cough or fever, and they responded they did not. Victor's brother, Nicolai, did not go to the Centre because his legs were hurting and he could not even walk to the waiting van.
This van is at Speranta Terrei thanks to the Kochon Prize Galina received in 2016. Galina's outreach to impoverished patients is much easier with the van, she can cover a larger area and take them in groups to the dispensary and conduct active case finding among them. "Many of these patients drink alcohol, though they have hardly a place to sleep," sighs Galina. Victor and Nicolai live in the ramshackle house of their deceased parents. Galina says they were obedient patients and completed TB treatment, but whenever they have a bit of money, they buy alcohol. Victor told Galina that Nicolai and he have gone to the hospital several times to be treated for alcoholism. Galina persists in tracking these patients because she wants to stop TB from spreading to others and she knows all too well the link between alcohol and TB.
At Speranta Terrei's Centre, Victor drank hot coffee and took a hot shower. Speranta Terrei's president, Feodora, showed him how to turn the shower on and off and how to adjust the water temperature. Afterwards, Victor said, "Thank you very much. I feel much better. I haven't had any shower for weeks. At least here I could have it. I am sorry my brother could not come."
Victor and other patients selected clothes and shoes from donations laid out in the Centre's conference room (photos). Maria, a homeless woman, exclaimed, "We are very grateful to this organization that helps people like us. We are poor and unhappy and I could tell you there are many of us who would like to get a job, but there are no possibilities, somebody doesn't have the necessary papers, others don't have a place of residence, or there are no jobs for us. And how could we live in such conditions? There is no way! We do our best to survive. Great thanks to all of you." We at Speranta Terrei pass along Maria's thanks as well as ours to you, our Global Giving donors.
Speranta Terrei this year commemorated World Tuberculosis Day, which occurs annually on 24 March, by inviting impoverished patients to our Centre and by being persistent in stopping TB.