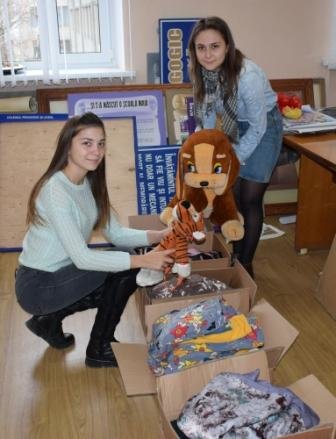 Alla sees the difference in the children's behavior since they started coming to Speranta Terrei's Centre for Tuberculosis Patients in Balti. Alla is Speranta Terrei's child psychologist and counsels children affected by tuberculosis. Alla says, "At first meetings with them, discussing and observing, they were shy, inhibited, in an unbalanced emotional state, lacking self-confidence and trust in others, as a result of stigma." After play therapy and interactions with high school students during the past year, Alla has seen the children become, "less inhibited, more open and more confident in their own powers. They are happy when they meet the students."
The students are from "Ion Creanga" High School in Balti. They conducted activities with these children at Speranta Terrei's Centre in the course of a civics education project on TB stigma. Their project won first place in the Balti city competition and they went on to the national Republican Tournament on Children's Rights, held in the capital, Chisinau, on May 13, 2017. Their project, entitled, "Monitoring the right to equal opportunities for children who have had TB infection and who are in contact with TB patients", won second place in the national competition! This recognition signaled that their topic had hit a nerve in a country where TB is common and stigma against those with TB is common as well.
In the competition, the students highlighted the community's attitude towards these children, legislation that should protect them, and the lack of social integration. The competition judges commended the students on the quality of their research and their personal involvement in solving a social problem.
At the start of this school year in September, their teacher, Olga, spoke to the school student council about the TB stigma project and the student council decided to organize a clothes and toy collection for the children. The students' parents, of modest means themselves, responded generously and soon the student council had collected more than it needed. In November, the student council leaders gathered students to pack a box for each child. In the attached photos, the student council leaders, Selina and Zinaida, and other students can be seen with the donations and the packed, hand decorated boxes.
The children were delighted to receive a special box and even more delighted to dance and play games. In one of the games, the circle of players kneels, facing towards each other, and another player drops a handkerchief behind one of the players (photo). The chosen player then recites a poem or sings a song. And on it goes. When it was time to leave the party, the children kept asking, "When are you coming again to play with us?"
Speranta Terrei hopes to bring more play days for these children at our Centre, which stays open for these gatherings thanks to your donations. Our staff, the Ion Creanga High School students, and the children send their thanks and good wishes to you for the New Year!