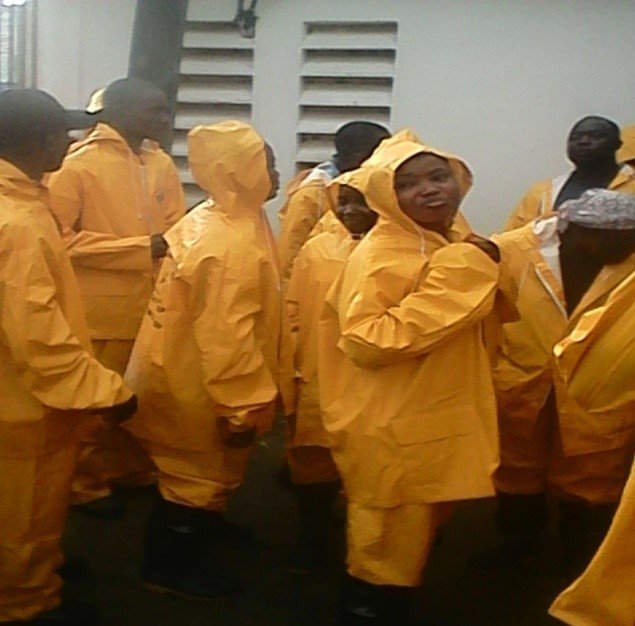 Recently Tok fo Pikin Welbodi (TfPW) volunteers developed a proposal requesting Welbodi Partnership (WP) to fund the simple procurement of high quality rain gear for 35 volunteers. Sometimes basic rain gear can mean all the difference in reaching communities and continuing the Ebola response. Experience has taught them that the rains always pose a serious threat to their community work and being able to work, even under the heaviest downpour, allows them to spread vital messages and aid to areas they work in.
During the rainy season Sierra Leone experiences heavy monsoons; it is often very challenging to continue community work during this time. Providing these simple tools allow for volunteers to continue their vital community work during the season. Today, thanks to Global Giving, our volunteers have been able to reach the far corners of their communities with health related messages and lifesaving interventions during the rainy season. One of the volunteers said that "With this rain gear, we are now unstoppable!"
Not too long after the gear arrived, Freetown experienced one of the heaviest floods in recent history. The floods have displaced approximately 10,000 people, destroyed properties and the casualties are still being counted. With the use of the rain gear, volunteers were able to reach out to homes and schools to rescue children that were caught by the sudden floods. Annual exams were taking place and many children were stranded in waist high water in the schools while their homes were washed away.
Had it not been for the timely intervention of these volunteers, aided by their new gear, the devastation to lives and homes would have been greater in those communities. During a visit to one of the severely affected communities, Alpha Sesay, one of the volunteers, said "I feel proud that we were able to help community members during this trying time and it is our hope that we [volunteers] will continue to work with Welbodi Partnership to save our communities from such natural disasters."
Links: