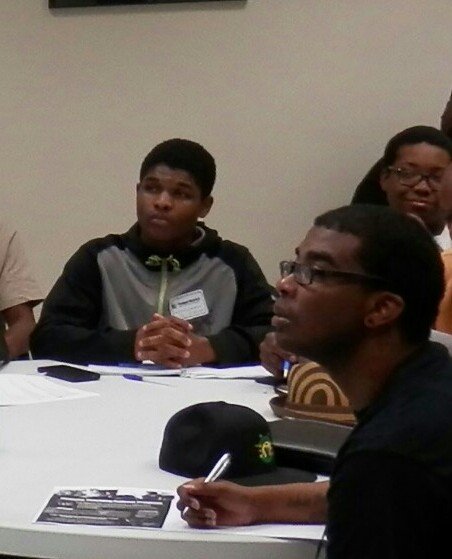 This month, the RISE Foundation collaborated with Southwest Tennessee Community College's Project MOST to provide a Common Cents workshop for this year's program participants. Kariem-Abdul Salaam, Project MOST Director, welcomed RISE Foundation's Rodney Lomax to present a session for over 80 participants. The Project M.O.S.T. program is grant-funded through the U.S. Department of Education's Predominantly Black Institutions (PBI) initiative and is designed to give preference and assistance to first-year African-American male students in college.
Mr. Lomax presentation was filled with best practices related to budgeting and credit. Most of the young men present were between the ages of 17-24 and both Mr. Salaam and Mr. Lomax felt it was important to impart the young men with relative information and examples that will allow them to make wise choices. Ms. Salaam noted that his experience had taught him that once students received their financial aid awards they sometime use them unwisely. Mr. Lomax shared how he gained from training while with RISE, as well as his personal life lessons, to paint a picture of the pitfalls that people can fall into when using their money or credit unwisely.
Everyone in attendance, including staff, seemed to be appreciative in learning how to better budget their finances, fill in money gaps, and also how to recognize and change poor spending habits. In light of the recent Equifax data breach, Mr. Lomax also recommended participants take steps to protect their credit by using certain monitoring strategies. He also gave examples of the real-life cost of having poor credit and how to go about improving credit scores.
The young men listen attentively and seem to be anxious to understand how financial management skills and techniques can really make a difference in trimming the monthly cost of expenses. It is eventually hoped that the lessons learned by these young men will help them one day to plan financially for their families and specifically the future of their children. What they know can be transferred around the kitchen table with their children as it was done in the past for thriving families in our community.
Your support has made this class with project MOST possible. With your support we can serve even more young men who really need to learn how to manage their financial resources to create happy families in the future!
Your support has made it possible for RISE to give the gift of Financial Literacy to this group of young men in college. Your continued support will help us serve even more young people in the future. Helping them to realize that they can leave college, prepared for their careers - debt free! It just takes a little Common Cents!