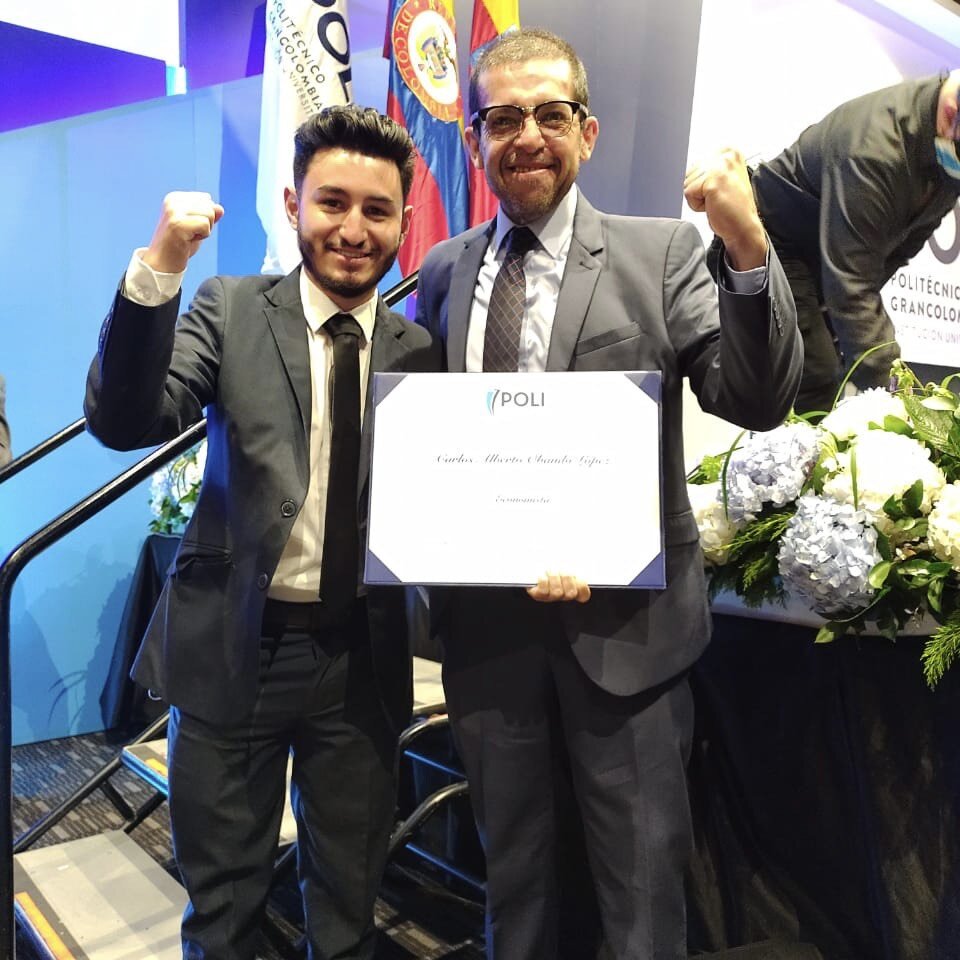 We are more than excited to start this new year, alongside each and every one of our donors. Our hopes are that this year brings more normality especially for our children, who are eager to enjoy their school year, meet new friends, and work on their inner transformation process.
We'd like to share with you, some of our major events since September, and a few goals we are looking forward to meet this 2022:
A special success story that makes us very proud was the graduation of Carlos Obando as an Economist at the Universidad Politécnico Grancolombiano. As we mentioned in the previous report, Carlos completed his seven-year training process at our St. Patrick Headquarters and he is starting his professional career in a renowned company. His example is very motivating for the rest of the children of the program, who see the possibility of fulfilling their dreams as they work on their life projects with our team of professionals.
This past November 30th, we participated in "Giving Tuesday". Thanks to our donors, we raised a total of $9,829.00 USD, which will be used to purchase a backpack, jacket and pair of shoes for our 102 children and adolescents in the in-house residential programs. U

nfortunately

, the purchase of these gifts has been delayed until the end of the month due to a COVID-19 outbreak in our staff and children, who cannot return to school until the beggining of February.
Despite bio-safety concerns, the children enjoyed the loving company of many people to celebrate the Christmas holidays. The children's choir opened Christmas at the Sofitel Victoria Regia Hotel and companies such as Asesoftware, Otto Tours, Evertec, Forum Latam, HandsOn, accompanied them with gifts and celebrations in each of the venues. For instance, Autoniza invited them to skate on his ice rink, an activity they fully enjoyed. Likewise, volunteers and close friends of the Foundation offered them delicious New Year's Eve dinners. With so many activities, and gifts, our children were more than happy with the way things turned out this past Christmas!
We are honored that in December 2021, our GlobalGiving corporate gift card donations increased to 30 donations vs. 17 in December 2020. With this in mind, we'd like to not only thank the donors, but also the companies that provide the opportunity, for these donations to happen. And of course, GlobalGiving we thank you for being the bridge that unites our cause with well-respected companies around the world.
Our purpose for 2022 is to always think about what we can do better in terms of providing attention for the the children, adolescents and young adults we protect in our programs, according to their ages, needs and dreams, and to provide support and accompaniment to their family groups on how to maintain the guarantee of their rights, aligned with the global trends of the UN and international guidelines for protection. The challenge is to improve the integral development of children, generate sustainable changes in their family environments in order not to avoid any recurrence of violation of their rights, and start their process in the Foundation with a view to the future from their entry and reception in our programs.
In terms of fundraising we hope to continue expanding our community, inspiring everyone to join from their possibilities to achieve our common goal of transforming lives and fulfilling thousands of dreams.
All of our accomplishments, have only been possible thanks to the continuous support that our donor community network has provided in 2021, which in turn gives us the chance to continue our day-to-day operation and thus be able to set goals for the future. It is very fulfilling to know that even in the most uncertain times, we can count on our donor community, who of course will always be a part of the Fundación Niños de los Andes' family. With that being said, we wish you all the best in your future endeavors and kindly invite you to visit our website for updates about our cause.
On behalf of Papa Jaime our founder, Board of Directors, Diana Zamudio General Director, our children and staff we'd like to wish you a happy 2022, and thank you for your commitment.
Best regards,
Patricia Gonzalez
Community Relations Manager
Version Español
Estamos muy emocionados por comenzar este nuevo año, junto a todos y cada uno de ustedes, nuestros queridos donantes y amigos. El 2021 significó un año de muchos retos y aprendizajes y no queremos dejar pasar esta oportunidad para agradecer su confianza y apoyo. Esperamos que este año traiga algo más de normalidad, especialmente para nuestros niños, que están ansiosos por iniciar su año escolar, conocer nuevos amigos y trabajar en su proceso de transformación interior.
Nos gustaría revivir con ustedes lo mejor de 2021 y algunos objetivos que esperamos cumplir este 2022:
Un caso de éxito especial que nos tiene muy orgullosos fue la graduación de Carlos Obando como Economista en la Universidad Politécnico Grancolombiano. Carlos realizó su proceso de siete años de formación en nuestra Sede St. Patrick y como les contamos, en el reporte anterior, está iniciando su carrera profesional en una reconocida empresa. Su ejemplo es muy motivador para el resto de los chicos del programa, quienes ven la posibilidad de cumplir sus sueños en la medida que trabajen sus proyectos de vida de la mano de nuestro equipo de profesionales.

El pasado 30 de noviembre participamos en "Giving Tuesday". Gracias a nuestros donantes, recaudamos un total de $9,829.00 USD, que se utilizarán para comprar una mochila, chaqueta y par de zapatos para los 102 niños, niñas y adolescentes que atendemos en los programas de internado. Desafortunadamente, la compra de estos regalos se ha retrasado hasta finales de mes debido a un brote de COVID-19 en nuestro personal y niños, que no pueden regresar a la escuela hasta principios de febrero.

A pesar de las inquietudes por temas de bio seguridad, los niños gozaron de la compañía amorosa de muchas personas para celebrar las fiestas Navideñas. El coro de los niños abrió la Navidad en el Hotel Sofitel Victoria Regia y empresas como Asesoftware, Otto Tours, Evertec, Forum Latam, HandsOn, los acompañaron con regalos y celebraciones en cada una de las sedes. Autoniza los invitó a patinar en su pista de hielo, actividad que disfrutaron plenamente. De igual forma, voluntarios y amigos cercanos de la Fundación les ofrecieron deliciosas cenas de fin de año. Los niños, niñas y jóvenes estuvieron realmente felices después de mucho tiempo sin visitas.

Nos sentimos honrados de que, en diciembre de 2021, nuestras donaciones provenientes de tarjetas de regalo corporativas de GlobalGiving aumentaron a 30 donaciones, frente a 17 recibidas en diciembre de 2020. Por esta razón nos gustaría no solo agradecer a nuestros donantes, sino también a las empresas que brindan la oportunidad para que estas donaciones sucedan. Y, por supuesto, a GlobalGiving le agradecemos por ser el puente que une nuestra causa con empresas respetadas en todo el mundo.

Nuestro propósito para 2022 será siempre pensar en entregar algo mejor a los niños, niñas, adolescentes y jóvenes que protegemos en nuestros programas, de acuerdo con su edades, necesidades y sueños, y brindar apoyo y acompañamiento a sus grupos familiares sobre cómo mantener la garantía de sus derechos, alineados con las tendencias globales de la ONU y las directrices internacionales para la protección. El reto es mejorar el desarrollo integral de los niños, generar cambios sostenibles en sus entornos familiares en procura de que no se repitan los hechos de vulneración, e iniciar su proceso en la Fundación con una mirada de futuro desde su ingreso y acogida en nuestros programas.
En materia de recaudación de fondos esperamos continuar ampliando nuestra comunidad, inspirando a todos a unirse desde sus posibilidades al logro de nuestro común objetivo de transformar vidas y cumplir miles de sueños.
Todos nuestros logros, solo han sido posibles gracias al apoyo continuo que nuestra comunidad de donantes ha brindado en 2021, lo que a su vez nos da la oportunidad de continuar con la operación diaria y así poder establecer metas para el futuro. Es muy gratificante saber que incluso en los momentos más inciertos, podemos contar con ustedes, que por supuesto siempre serán parte de nuestra familia Niños de los Andes. Dicho esto, les deseamos todo lo mejor en sus esfuerzos futuros y los invitamos amablemente a visitar nuestro sitio web para obtener actualizaciones sobre nuestra causa.
Papá Jaime nuestro fundador, nuestra Junta Directiva, Diana Zamudio Directora General, el equipo y por supuesto nuestros niños, niñas y jóvenes, les deseamos lo mejor para 2022 y agradecemos su gran compromiso.
Cordialmente,
Patricia González
Proyección a la Comunidad