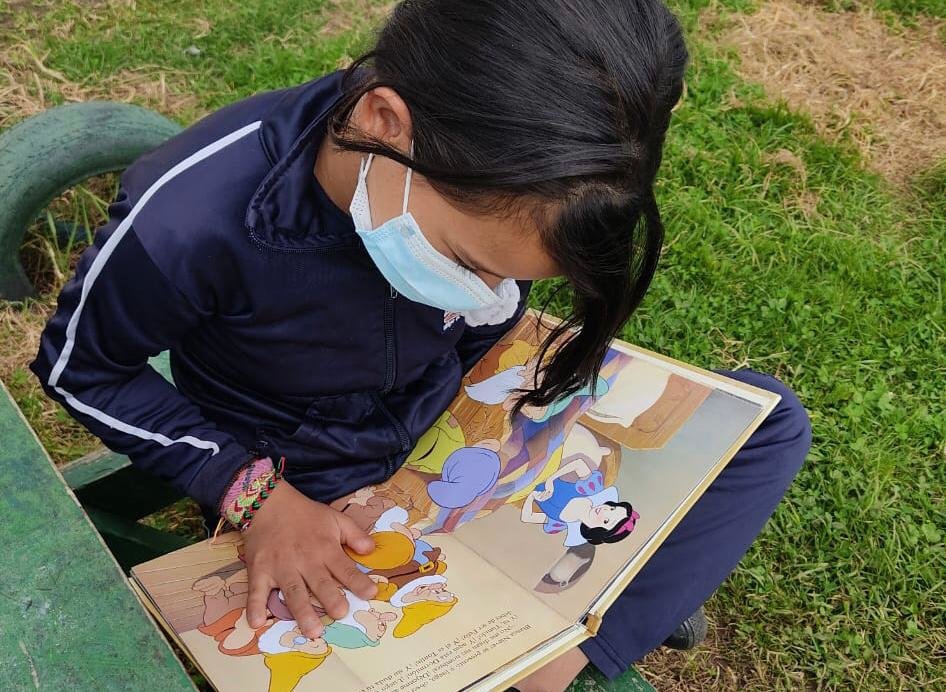 Dear Donor,
Happy June! It seems like only yesterday we begun hearing news about COVID-19. What was then a disease in China, is now a pandemic that has completely changed the course of our world. Unfortunately to this day, we are still struggling with this pandemic as we are going through the third peak, severely affecting our society, but more importantly our children. Their imaginative minds have been limited to see only one house, one life, and one environment, that is confinement. However, the bright light can indeed shine, and that light is our donors, our community and our everlasting supporting friends and partners like GlobalGiving, that connect us with people like you.
Below we'd like to share some exciting things we have been working on this past trimester and those we will continue to work on in the upcoming months:
We are happy to announce that we have successfully designed our Learning Community Model, which is based on the institutional philosophy principles, and focused on the development of our children's skills. This model enriches their technological skills that they previously struggled with, as a result of virtual schooling.
Two years ago, Mariana* (10 yrs old) arrived to our foundation lost, sad and confused. Unfortunately, she was taken from her family after an accident that changed her life forever. During a Christmas celebration in company of her family firecrackers exploded in her right hand and as a result burnt off 4 of her fingers. Every Christmas she cries remembering this moment. To this day however, thanks to your support we are able to provide her with intensive psychosocial and pedagogical Intervention that brought her smile back, brighter than ever.
As we informed in our past report, we were invited to participate and experience the four month long "Greater Giving Summit". After these exciting and enriching learning sessions, the summit came to an end this past May 18th. This experience brought us much needed insight from extensive research and skills regarding fundraising for the post-pandemic world and how we can thus react, transform and rebound with greater impact.
We are excited to announce that we will be participating in this year's Bonus Day! On July 14, donations of $100 and up will be eligible for matching funds from GlobalGiving! The higher the donation, the higher the match and the more we can accomplish together! As the date approaches, we will be sending out more information, so keep an eye out.
Because of the increasingly difficult socio-economic situation that we are living in Colombia, that has increased the poverty index by 42%, we decided to amplify our global impact by securing an alliance with Pindle. This is a global, travel-themed social media mobile application where users can pin images on a world map and share their moments with friends. As part of their efforts to give back to the world and community, they use their platform to create greater awareness for NGOs across the world, through their "NGO Badge List".
Within this uncertainty, your help, contributions, and advocacy, have shown us, our staff and our children, that together we can make this world a better place for our children. So, thank you again.
Stay tuned for more news in the upcoming months!
With love,
Angelica Vega
Fundraising Official
*Her name was changed in order to protect her identity.
Versión Español
Estimados donantes,
¡Feliz Junio! Parece que fue ayer que empezamos a escuchar noticias sobre COVID-19. Lo que entonces era una enfermedad en China, es ahora una pandemia que ha cambiado por completo el rumbo de nuestro mundo. Desafortunadamente, hasta el día de hoy, todavía estamos luchando con esta pandemia, ya que estamos pasando por el tercer pico, afectando gravemente a nuestra sociedad, pero lo más importante a nuestros niños. Sus mentes imaginativas, se han limitado a ver sólo una casa, una vida y un entorno, que es el confinamiento. Sin embargo, una luz nos acompaña, y esa luz son nuestros donantes, nuestra comunidad, nuestros amigos y especialmente un aliado como GlobalGiving que nos conecta con personas como tú.
A continuación, nos gustaría compartir algunas cosas emocionantes en las que hemos estado trabajando en este trimestre pasado y en las que seguiremos trabajando en los próximos meses:
Nos complace anunciar que hemos diseñado con éxito nuestro Modelo de Comunidad de Aprendizaje, basado en los principios de filosofía institucional, y centrado en el desarrollo de competencias de nuestros niños y niñas. Este modelo pretende crear espacios innovadores de formación y enriquecer sus habilidades tecnológicas que les dieron problemas en su experiencia de escolaridad virtual.
Hace dos años, Mariana* (10 años) llegó a nuestra Fundación perdida, triste y confundida. Desafortunadamente, fue arrebatada de su familia después de un accidente que cambió su vida en ese momento. Durante una celebración navideña en compañía de su familia, los petardos explotaron en su mano derecha y como resultado se quemaron 4 de sus dedos. Al día de hoy y gracias al apoyo de ustedes, logramos proporcionarle una oportuna atención psicosocial que trajo su sonrisa de vuelta, más brillante que nunca.
Como les informamos en nuestro reporte anterior, fuimos invitados a participar en el "Greater Giving Summit", cumbre de cuatro meses de duración, en la que tuvimos una variedad de sesiones de aprendizaje muy enriquecedoras, que llegaron a su final el pasado mayo 18. Esta experiencia nos trajo una visión innovadora y muy necesaria, como resultado de una amplia investigación acerca de las habilidades para la recaudación de fondos en un mundo post-pandemia y sobre cómo podemos reaccionar, transformar y recuperar con mayor impacto para nuestras comunidades.
¡Estamos encantados de anunciarles que participaremos en el Bonus Day de este año! ¡El 14 de julio, las donaciones de USD $100 en adelante serán elegibles para igualar los fondos por parte de GlobalGiving! ¡Cuanto mayor sea la donación, mayor será el partido y más podremos lograr juntos! A medida que se acerque la fecha, estaremos enviando más información, ¡así que no lo pierdas de vista!
Debido a la cada vez más difícil situación socioeconómica que estamos viviendo en Colombia, que ha elevado el índice de pobreza a un 42% en el país, decidimos ampliar nuestro impacto global pactando una alianza con Pindle. Esta es una aplicación móvil global de redes sociales con temática de viajes, donde los usuarios pueden anclar imágenes en un mapa del mundo y compartir sus momentos con amigos. Como parte de sus esfuerzos por devolver al mundo y a la comunidad, ellos utilizan su plataforma para crear una mayor conciencia sobre el trabajo de las ONG de todo el mundo, a través de su "Lista de Insignias de ONG".
Todo lo anterior sumado a la ayuda de ustedes, sus contribuciones y su apoyo incondicional han demostrado a nuestro equipo y a nuestros niños, que juntos podemos construir un mundo mejor a pesar de las adversidades. Así que, gracias de nuevo.
Manténgase atento para más noticias en los próximos meses!
Con amor,
Angelica Vega
Oficial de Fundraising
*El nombre de la niña ha sido cambiado para proteger su identidad.