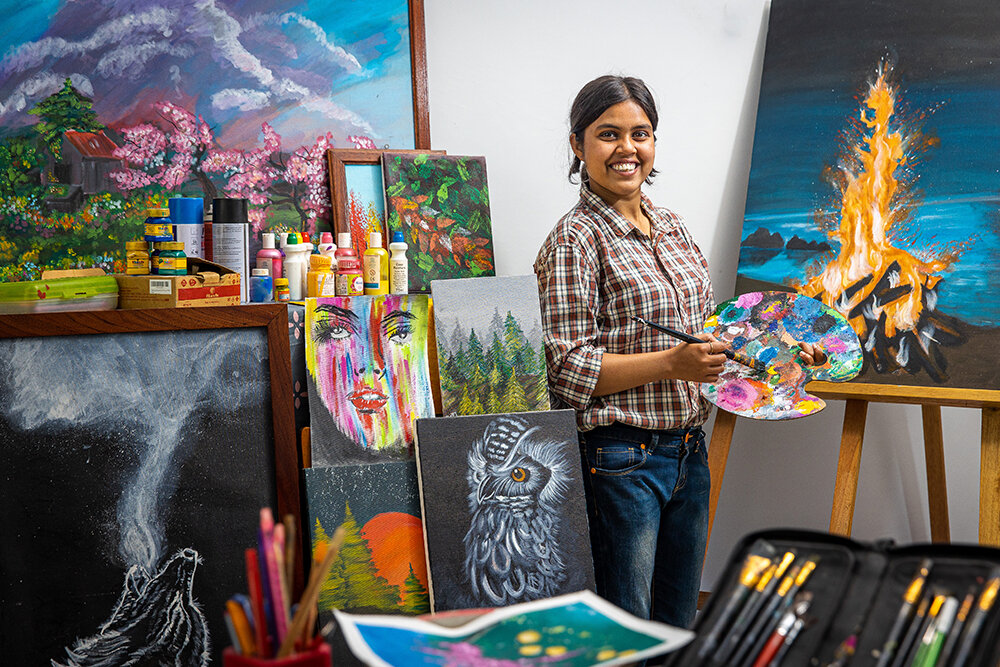 Hey everyone,
It's hard to believe but six of our original 8 students will be graduating this spring. Sonia, Job, Kamal, Clifford, Basanti and Jessica. Statistically, 50% of Indian college students drop out before completing their degree, but so far, with hard work and dedication, 100% of our students are on track to graduate. Great job, everyone.
Three years into this program, we have 18 students funded and enrolled in top private universities. And in the coming year, we'll add 7 more, bringing our total to 25! In no particular order, here is next year's class.
Pinky is an incredible artist who has an unlimited amount of potential. All the images in the photo above were created by her! Her goal is to study interior design or some type of design, allowing her to put her creativity to work.
Lisa hopes to study nursing like her big sister Basanti. Basanti will graduate this October after an incredible program that had her doing rounds in a local hospital during the Covid crisis. The most amazing thing is: Basanti's sponsor has decided to sponsor Lisa as well, so this girl is all set! With an estimated shortage of 4 million nurses in India, this is a smart path with a bright future.
For years, Shane has been interested in cooking, often helping out in the kitchen and preparing meals for the boys. Now he's hoping to get his BHM (Bachelor of Hotel Management) to advance his career. "Five years after graduation, I see myself in a well-known restaurant as the Executive Chef," he says. Dream big, Shane. And watch those fingers.
Like many young women, Kushbu has the dream to become a flight attendant for an airline. This competitive field requires a Bachelor's degree, so Kushbu is considering a BBA in Airport Management, allowing her to learn about the business of air travel and opening many more doors in the process. Spread your wings, Kushbu. It's time to fly!
Sareena is another artist who plans to study graphic design in college. Her long-time sponsor has already offered to support this girl's dream and so Sareena is now just looking for the best program to sharpen her already keen sense of style. Quit lying around, Sareena. It's time to bounce into the future.
At the moment, Dhiraj is debating between earning a business degree or an educational degree. We can say, he'd make an excellent teacher or captain of industry, wherever he decides to apply himself. "I never thought of me being in college," Dhiraj says, "so yes, this opportunity means a lot to me." We believe in you, buddy!
Anthea is the kind of powerful young woman who can do whatever she puts her mind to. At the moment she is still undecided but interested in business and/or travel. Does everyone have their career path all mapped out before they turn 20? No doubt, in the end, she'll make us all proud.
HOW CAN YOU GET INVOLVED?
If you'd like to sponsor one of these students, please reach out to me at john@johnmarshall.com and I'll give you all the details.
If you'd like to make an additional donation or a monthy donation, you can visit the Mission: University page right here on GlobalGiving. Thanks so much for your support of these kids. You are having an amazing impact and we'll let you know all about graduation soon.

All the best,
John