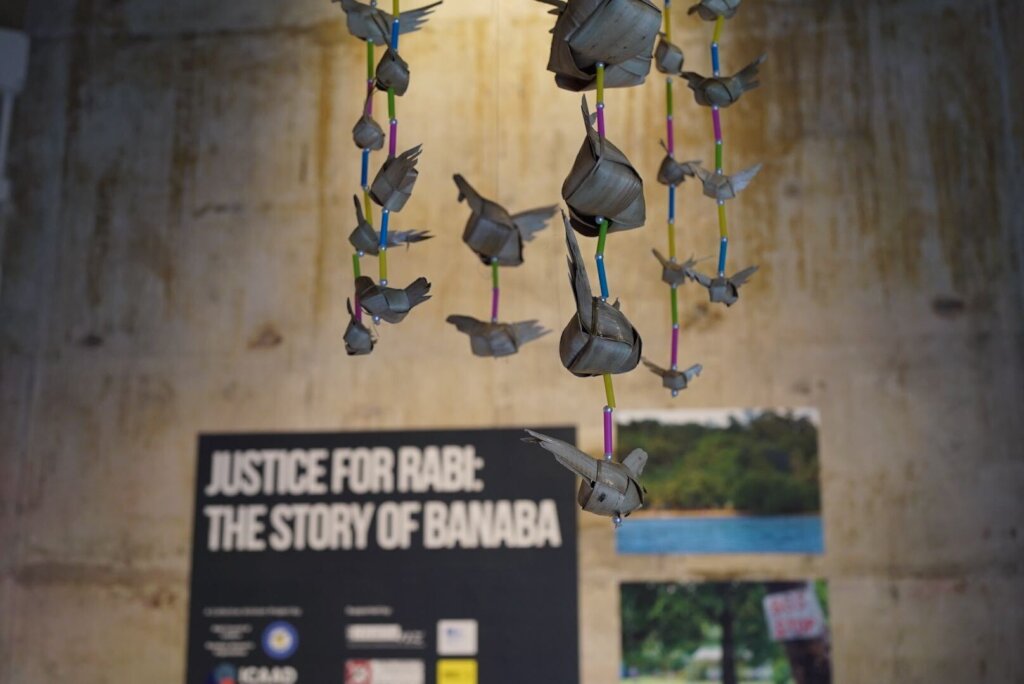 The human rights struggles of the Banaban community offer important lessons for climate mobility policy and the impact that climate change has on marginalized groups, including Indigenous communities and women and girls. As a community forcibly removed from their homes due to the devastating impacts of colonial phosphate mining in 1945, they have already experienced the displacement and dispossession that will become common across the Pacific Islands and other low-lying regions in the coming years and decades. Their demands and their story is an essential one that we have been working to bring to the global stage.
We're thrilled to share that our first-ever art exhibition in Auckland, which was centered around highlighting the struggles facing the Banaban community, was a huge success. The co-created exhibit Justice for Rabi: The Story of Banaba was visited by over 600 guests and featured 80 new commissioned artworks from the Banaban Womens Organization and Banaban students.
The feedback from the exhibition was inspiring. One visitor shared: "I was blown away by the stories and history of the Banaban community, before this exhibition I did not know New Zealand's involvement in the mining and how our agricultural industry is thriving because of this exploitation." Another shared: "How could society have let this happen to the Banaban people? Thank you for sharing your stories. May they never be forgotten."
As part of the exhibition, we invited a visiting delegation of eight Banaban dancers and choreographers and three Rabi Council representatives to Auckland. One of the dancers spoke at the Global Climate Strike with the group of dancers standing behind him, bringing their story to the climate justice space.
As part of our advocacy, we also launched a petition which has received nearly 400 signatures, and will soon be bringing it to the Government of New Zealand. The petition calls on New Zealand to claim responsibility for the harm caused to Banaba and take steps to support their human rights – including ensuring the community has access to basic food supplies and clean water. We also published a policy brief to increase global awareness to their struggle.
The Justice for Rabi exhibition and event was covered in media outlets including The Spinoff, Radio New Zealand and 95bfm. We've put together a highlight reel of the exhibit so you can take a look, and we're excited to announce that the artwork will be featured in a virtual gallery coming soon!
Your continued support for our climate + gender justice project is what makes it possible for us to continue to support the Banaban community and marginalized groups across the Pacific that are fighting for their rights. We are so grateful for your partnership and generosity as we work together to build a more equitable future.