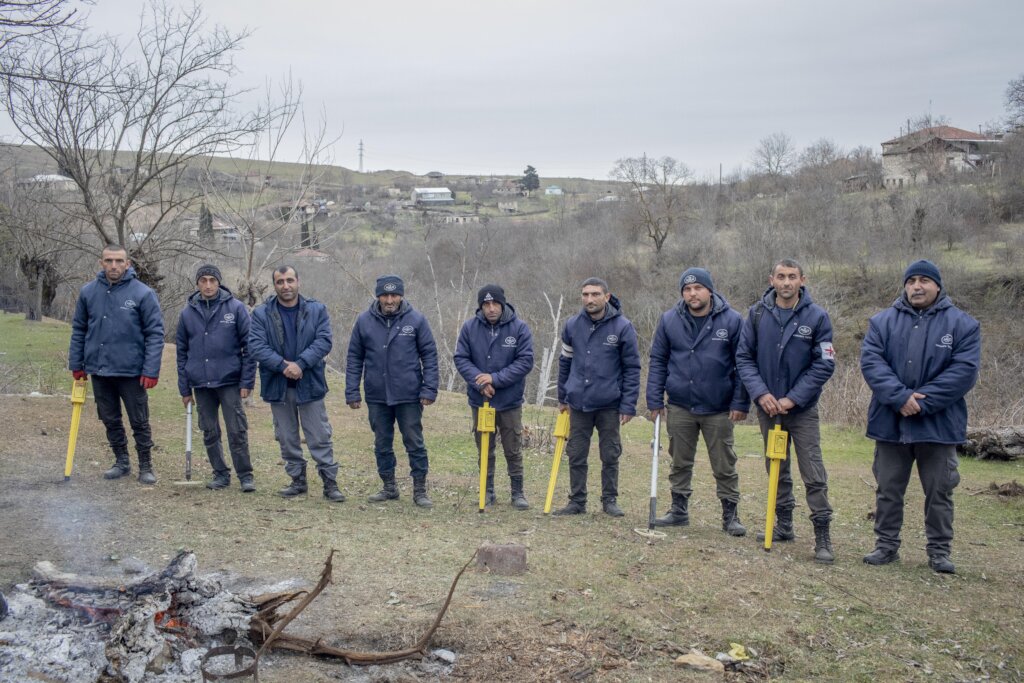 HALO teams in Nagorno Karabakh continueto find and destroy unexploded ordnance in the Village of Maghavuz. Maghavuz village of the Martakert region is located in the north-eastern part of Nagorno Karabakh, on the right bank of Tartar River. More than five hundred residents, including a number of internally displaced persons, live here. The villagers are famous for their hospitality and unconditional generosity. Like most of the villages of Martakert region, Maghavuz is distinguished by the bewitching beauty of majestic heights covered with thick vegetation, abundance of pure drinking water from mountain springs, and very fertile soil. This allows rural residents to actively and productively engage in agriculture, and then generously share the rich harvest with relatives and guests.
The village was in the center of hostilities and was subjected to massive shelling both during the war in the nineties and in 2020. Explosive remnants of war, including cluster munitions, are scattered densely around the village, threatening the lives and wellbeing of the locals.
The village Mayor, Hrant, told us that the fear of dangerous explosives made people afraid to leave their homes, cultivate gardens, and graze livestock, which led to a sharp decrease in crops production.
HALO teams already found multiple cluster munitions around the village including the area of the spring, that serves a source of drinking water for the villagers and their livestock.
Thanks to HALO's work making land safe, Hrant is working on a number of projects for the local community. He has already managed to secure funding to build a kindergarten on the land cleared by HALO, which will be attended by around 35 local children every day. He is also actively working on a project to rehabilitate abandoned houses, which will provide permanent housing for internally displaced people.
Expressing gratitude for the work done by the deminers, Hrant tells us, "Residents are so used to their presence that their absence even for a couple of days causes many to feel something similar to an absence of a family member."