Project Report

| Jul 13, 2022
Thank You For Making Stepanakert Safe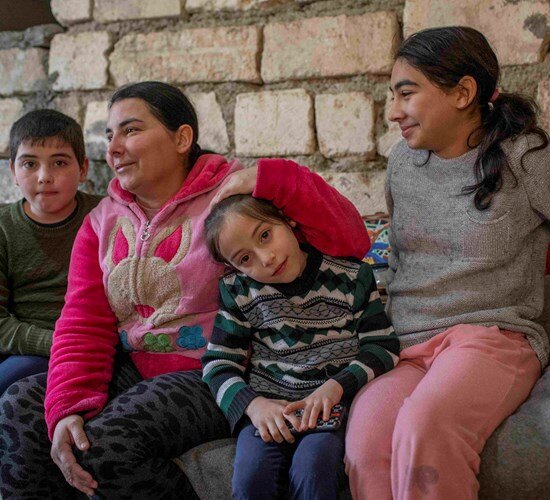 During the war, Stepanakert, the capital of Nagorno Karabakh, was one of the areas that was most devastated. More than 20% of the city was contaminated with unexploded items that were left from constant bombardments during the height of the fighting. But just 18 months later, HALO reached an important milestone in helping Nagorno Karabakh recover and completed the clearance of all known contamination in Stepanakert.
Because of you, families have returned home and children are walking to school knowing that each step is safe. Read on to see how your support is making a real difference for families like Svetlana's and Araxia's in Stepanakert.
36-year-old Svetlana, mother of four, lives with her husband and children at the farthest edge of Stepanakert. When the fighting began, she took her children to Armenia to stay safe. When they returned, they found their newly built home badly damaged with the roof caved in, the windows blown out.
HALO staff spent a month clearing her family's lot alone of dangerous explosives and rockets left from the war. The roof is now patched, and the windows covered with cellophane. "Luckily, HALO arrived shortly after we returned. Slowly, slowly, we will build it up again," Svetlana says. "For now at least, I know the kids can play outside and walk to school safely. This is something."
80-year-old Araxia is from the village of Aknaghbyur, which was ceded during the war. She now lives with her daughter's family in Stepanakert. "When we got here after the war, there were already deminers clearing the area," says Araxia. She had walked down to a grassy area in the ravine below her daughter's home to pick herbs for cooking. Upon arriving, she noticed the area cordoned off with HALO staff onsite preparing to detonate a bomb they found. "It's a good thing they got there before I did!" she exclaims. Araxia is grateful to everyone who helped make Stepanakert safer for her and her grandchildren. "May this world be better for them, safer for them," she says.
Clearing Stepanakert of deadly explosives not only saves lives but also enables peace and prosperity for future generations. Thank you for providing stability, hope, and peace for families in Stepanakert and throughout Nagorno Karabakh.