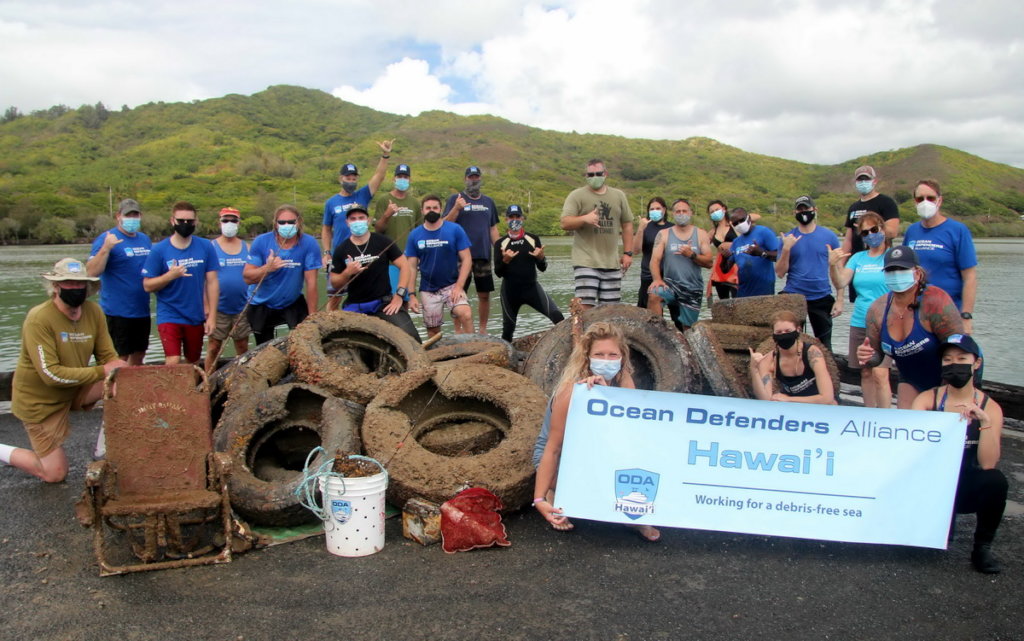 I hope the end of your summer and beginning of fall has been as good for you as it has over here at Ocean Defenders Alliance (ODA) as we put into action your ocean cleanup work!
You may not know it (yet), but you have something to feel good about: Your ODA crews have been busy cleaning the seas of debris in the coastal waters of both California and Hawai'i. It's been an exciting time because with the pandemic slowing down we've been able to ramp up the number of crew members and we've initiated cleanups in a lot of new locations!
In the last two-and-a-half months, we've had over a dozen outings and hauled in large amounts of ghost gear and plastic trash.
Here are some highlights of what you're helping to accomplish in Hawai'i:
The media came out to report about our launch of a new cleanup site at Kaneohe Bay on the island of Oahu. Twenty-five enthusiastic volunteers pulled dozens of toxic tires, fishing lines, poles, ropes, and random items like a mud-covered lawn chair! **Read all about it here.
Another new site, this time on the Big Island: Near Kona, at Keauhou Bay, we cleaned an area where manta rays gather. Fishing line, tires, hazardous lead weights and auto batteries, and more were removed to make the habitat clean and healthy for the beautiful fish and mantas who call the place home. **See photos of the amazing wildlife.
Thanks to your help we've been able to continue our monthly cleanups of Oahu coastal waters with our dive boat partner Island Divers Hawai'i. **Visit our ODA-HI page, scroll to the bottom for a list of articles!
Your care for the ocean extends to Southern California coastal waters. There were other outings, but here's a quick report on two new sites we were able to clean:
Off the coast of Ventura County, at Rincon Island, we removed four large lobster traps. They were full of live lobsters and crabs, so you helped those critters live another day! **Come see and enjoy the animal release.
On two trips to the La Janelle boat wreck site, another seven large traps were removed along with hundreds of feet of whale-entangle line and ropes. Left on the ocean bottom, these traps not only continue to imprison marine wildlife, but with the currents, they move around the floor crushing and destroying the fragile life and corals. **Check out each article - the first outing and the second outing - as we have amazing underwater photos.
When you go visit any of the articles, be sure to scroll to the bottom and look at the photo gallery. There are many more photos to scroll through in addition to what you see displayed along with the article text.
Your support of ocean cleanup is critical. There's so much debris that's "out of sight, out of mind" but it's not out of your mind or ours! We'll continue removing the abandoned fishing gear like lines, nets, ropes, and traps and all the other man-made trash in the places above AND we have even more new locations scheduled in the not-too-distant future.
So stay tuned for more good news and good things that YOU make happen when you support clean oceans through ODA!
For clean and healthy oceans,
Kurt

Kurt Lieber
Founder & President