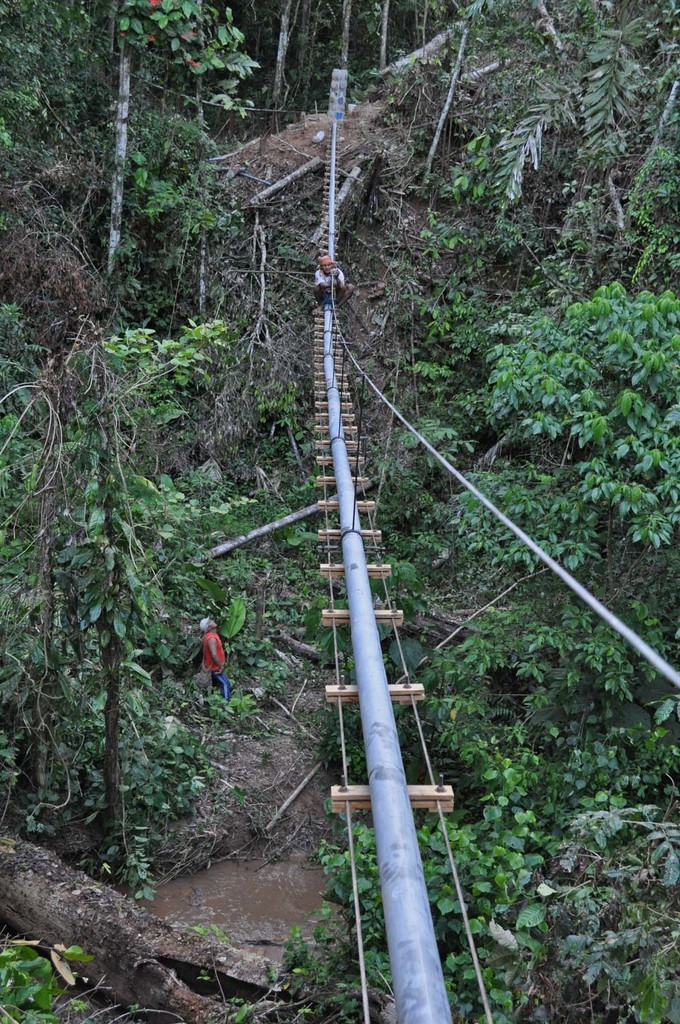 Dear Friends,
In November of 2007, HOTC's team made a journey deep into the primary rain forest of Manu to assess the health needs of the native Matsigenka village of Tayakome. It was on that day that Hilario, a man from the village, filled with emotion, raised his voice at our community meeting, and said, "we want a better life for our children, and are willing to work hard together to achieve clean water."
We are proud to report that after 17 months of development on August 24, 2009 HOTC has officially broke ground in Tayakome. This is the first time in the history of the Manu Park, established in 1973, that indigenous people in the protected zone, will be empowered by sustainable health infrastructure, clean water, sanitation and health education. We are all very excited!
Our Services for Tayakome are: • Equal access to SAFE drinking water throughout the community. • The construction of a communal gravity flow water system. • Sturdy tap stands with an eco-friendly underground greywater drain at each home. • Stone utility sinks at the village schoolhouses. • Bathrooms that include flush latrines with eco-friendly septic system at the school grounds. • Weekly health and hygiene classes for the children and monthly classes for the mothers. • Baseline health assessments which include parasite and anemia testing to monitor the health advances in the community. • Technical training for the village based water committee and health personnel in health infrastructure, construction and water safety. • Partnerships with the health and education ministry for long term health advances and project sustainability.
Phase One: Construction of the gravity flow water system and slow sand filtration, 15 tap stands and 2 utility sinks with underground greywater drains, and base line health assessment is scheduled to be competed by Dec 30, 2009.
There are 190 people living in Tayakome; 110 of them are children under the age of 15. The water system is accommodating all the people, and will allow for a 5% growth rate per year over 15 years.
Our Project Advances:
• 100kg of construction materials have been purchased and transported one day by land, and three days on the river by boat and are in the community. • 100% of the 3.5 km water distribution line has been laid throughout the village. • 100% of the 100,000 kg of stone for the greywater drains have been collected. • Water filtration system has been designed by our US environmental engineer, Humphrey Blackburn of Blackburn & Assoc. Humphrey's operations manager made a trip to Tayakome in late October, to assist our team in building the water filtration system. The Slow Sand Filters are now in place and functioning, with a storage tank holds 18,500 liters of safe drinking water.
• 15 Tap stands have been built at each home throughout the central community and the underground drain at each tap to dispose of grey water will be finished by the 15th of Dec.
• Health examinations were conducted in November for all children and families which included anemia and parasite base line testing.
• Our Medical Anthropologist Glenn Shepard Jr. Ph.D spent six days in the community at the end of August documenting the social impact of our program.
Our advances continue to be steady as we are now flat up rainy season. Our team remains united the villagers dedicated to completing this first phase of the infrastructure in their community by the 15th of December.
We are 80% there, and are in need $30,000 complete this first phase of programming, which is flowing clean water to 15 homes, the village schoolhouse and medical post, and includes health education classes and technical training for the village water committee.
Your generosity has been instrumental in HOTC achieving the above accomplishments. Know that every dollar you donate through Network for Good helps to ensure a healthier life for the children and people of Tayakome.
Thank You and Bless You all for what you are facilitating for the people of Tayakome and we look forward to your continued support as we serve humanity in this remote and special part of our world.
We wish you all a warm holiday season filled with love and all things bright.
Love and Blessings, Nancy Santullo