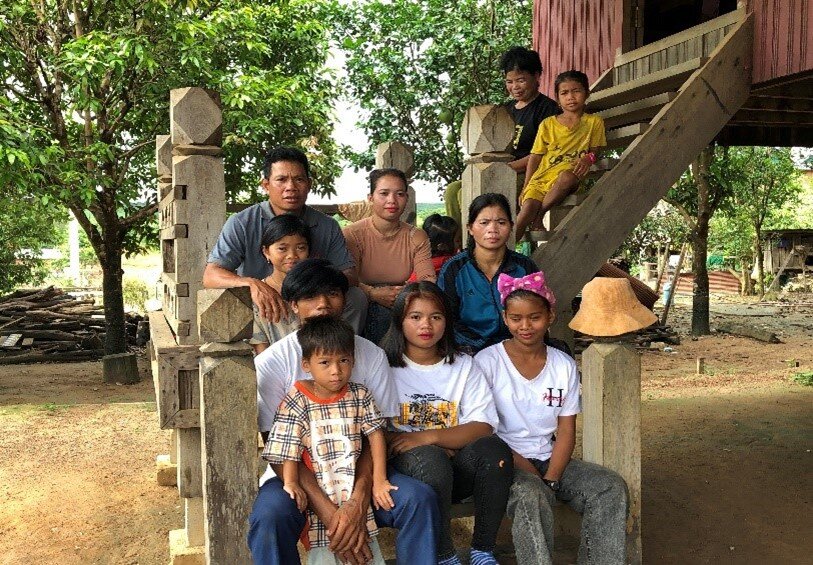 John, a farmer from a remote mountain village in Cambodia, along with his wife and children always drew all their drinking water from the village well. Still many times a year they would each fall ill with stomach aches and diarrhea and also frequently experience other health complications like lower back pain and eye problems.
John is descended from an ancient Cambodian ethnic group. Because he lives in the moutains, it is very difficult to travel to any other place outside of his own village. John attended school until fifth grade and can speak two languages: Khmer and Jarai. In 1998 during the Pol Pot regime, he married his wife in Vietnam near the Khmer border. They had six children together, but sadly, in 2001, one of their daughters died from leukemia. Now John owns 10 hectares of land where he works hard morning until evening six days a week with his wife to farm cassava and cashews. Despite all of their faithful hard work, for a long time John and his wife could not afford enough food or medical care for their family.
In 2010, CWEF and another group, visited John's village. They shared the gospel with John and his family and also taught them how to eat healthy, how to wash their hands with proper technique, and how to boil water in order to make it safe for drinking. After CWEF's first visit, John began to serve his local church, study the Bible outside of his village, and share the gospel with other people in his own community, instructing them about God's work. Because he speaks both languages, John also assists with translating the Bible from the Khmer language into the Jerai langugae so that people in his community can better understand God's Word.
In 2014, a few years after CWEF's first visit, John requested a biosand water filter from CWEF. Unfortunately, the materials for the filter could not be transported over the terrible village roads. But recently with improved roads, CWEF finally was able to fulfill John's request and delivered thirty biosand water filters to John's community.
Today John says:
"My community is so blessed by God through receiving Biosand Filters from CWEF organization. Now we do not spend a lot of time boilingdrinking water, and we feel comfortable after we get safe drinking water at home. Thank you CWEF for continuing to work in my community and so encouraging us in the name of God."
John and his wife have also now achieved better production on their farm and are able to provide enough food and medical care for their family.
Thank you for your generous support of CWEF's HEAL (Health Education and Literacy) program. You make it possible for families like John's to not only hear about the goodness of God but also experience it through clean water, health education, and improved sanitation! Your generosity is transforming lives!
Links: