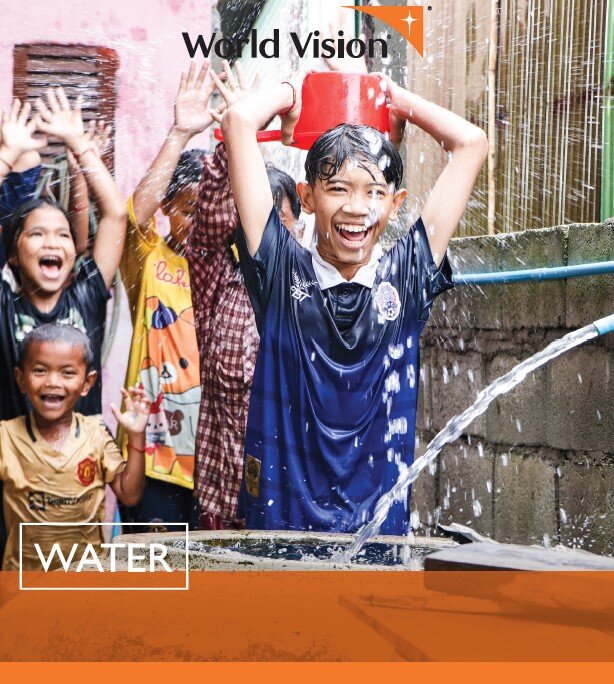 Thanks to the faithfulness of our donors and partners—along with the hard work of more than 1,200 World Vision staff members in 41 countries—fiscal year 2022 was an excellent year of results. During this period, we celebrated reaching 25 million people with clean water globally since 2015, halfway toward our commitment to reach 50 million people by 2030. To put this in perspective, 25 million people are more people than live in Florida, our third most populous state. But we didn't accomplish this work in states with good roads and lots of water. We reached 25 million people in the toughest-to-reach places, such as the arid regions of Niger, war-torn areas of South Sudan and Ethiopia, and the high hills of Honduras. With your support, we remain determined to reach everyone, everywhere we work, with clean water.
This report covers the second year of our Global Water, Sanitation, and Hygiene (WASH) Business Plan (fiscal years 2021-2025), which is transforming the lives of millions through four strategic goals:
1) Accelerating access to complete and equitable WASH services
2) Deepening our focus on the most vulnerable people
3) Demonstrating sustainable impact
4) Leveraging our business plan investments to raise additional funds
Through this five-year plan, we commit to reaching 15 million people with clean water. Having reached 6 million people in the first two years, we are on track to achieve this goal.
During FY22, we met or exceeded our targets by reaching 3,074,428 people with clean water (111% of target); 2,711,974 people with improved sanitation (107% of target); and 3,364,713 people with handwashing facilities (95% of target).
In line with our commitment to deepen our focus on the most vulnerable, nearly 91% of water participants live in the most difficult and dangerous places to reach. Because of several humanitarian situations that included civil war, we also reached 786,678 people with emergency water and 345,637 people with emergency hygiene supplies.
Another top priority is to empower women. To that end, we saw 1,967 women become active in WASH businesses and 5,229 women trained on WASH advocacy. Consistent with our business plan goals to increase levels of water service, only 3% of water points were hand pumps, while 26% were community taps, and 70% were household water connections. To improve water system sustainability, we worked with communities to establish and train 5,519 water committees (123% of target).
On top of making clean water accessible for households, we provided 514 health centers and 1,534 schools with water, plus 927 health facilities and 3,616 schools with handwashing stations. Despite the large number of schools and health centers reached, we fell short of targets in some areas. This underperformance was due partly to delays in the Child Investment Fund Foundation work in Ethiopia (now on track) and partly to decreases in the funding of handwashing and sanitation initiatives (after large increases in funding during the first years of the COVID pandemic). Given the important role of faith leaders as influencers in their communities, we trained 11,820 faith leaders (twice our target) on hygiene and sanitation behaviors.
During FY22, we continued our focus on Finish the Job plans to provide clean water access to everyone, everywhere we work in Rwanda (1 million people by 2023), Zambia (800,000 people by 2025), and Honduras (650,000 people by 2027). We are proud to say our Rwanda effort is on track for completion in 2023, having reached 298,273 people with clean water in FY22, for a total of 91% of the 1 million needed to finish the job.
Zambia requires $50 million over five years from U.S. donors, and, to date, we are excited that we have commitments from donors for $27 million. This effort is enabling additional financing and partnership with the Zambian government, with the result that Zambia had their most impactful year ever by reaching 230,629 people with clean water. For Honduras, we have raised $15 million of the $60 million needed from U.S. donors. The Honduras team has also been hard at work mapping existing access levels to clean water, including the mapping of over 9,000 water points, and will scale up these efforts in the coming year.
THANK YOU
We are grateful for your partnership in this critical work. By helping provide clean water for over 3 million people, improved sanitation for over 2.7 million, and sinks and handwashing stations used by over 3.3 million since October 2021, your generosity has contributed to better health outcomes and transformed lives around the globe.
For more details on our work in 2021, please see the attached report
Photo captions
(1) MHM training opens world to women, girls
Debunking myths and quashing taboos around menstruation are helping transform the lives of women and girls in Sudan—even for staff members who teach communities about menstrual hygiene management.
"For me, I grew up knowing menstruation to be a taboo topic. I never discussed it with my mother or sisters," said Kawther Hamad Hago, a sanitation and hygiene specialist in Blue Nile state. "But now, I feel empowered … to talk about it freely. Implementing this activity also changed me."
At left, a woman makes reusable sanitary pads, which she sells to help support her family while also providing women and girls with the hygiene supplies they need.
(2) Ramps give Dumisani access and dignity
Before accessible latrines were built at Mpapa Primary School in Malawi's Mutchenda area program (AP), 12-year-old Dumisani had to crawl into the school's latrines because there were no wheelchair ramps.
"The toilets were bad, dirty, and not safe for one to crawl in," he said. If he didn't want to crawl into unsanitary latrines, he would wheel himself home, but then he'd miss precious school time. "And sometimes I would fail to return back to school due to tiredness," he added.
Another plus is having a handwashing station next to the new block of seven latrine stalls. "After leaving the toilet, I go behind, where I wash my hands. I am now assured that every time I leave the toilet, I am safe from different types of diseases."