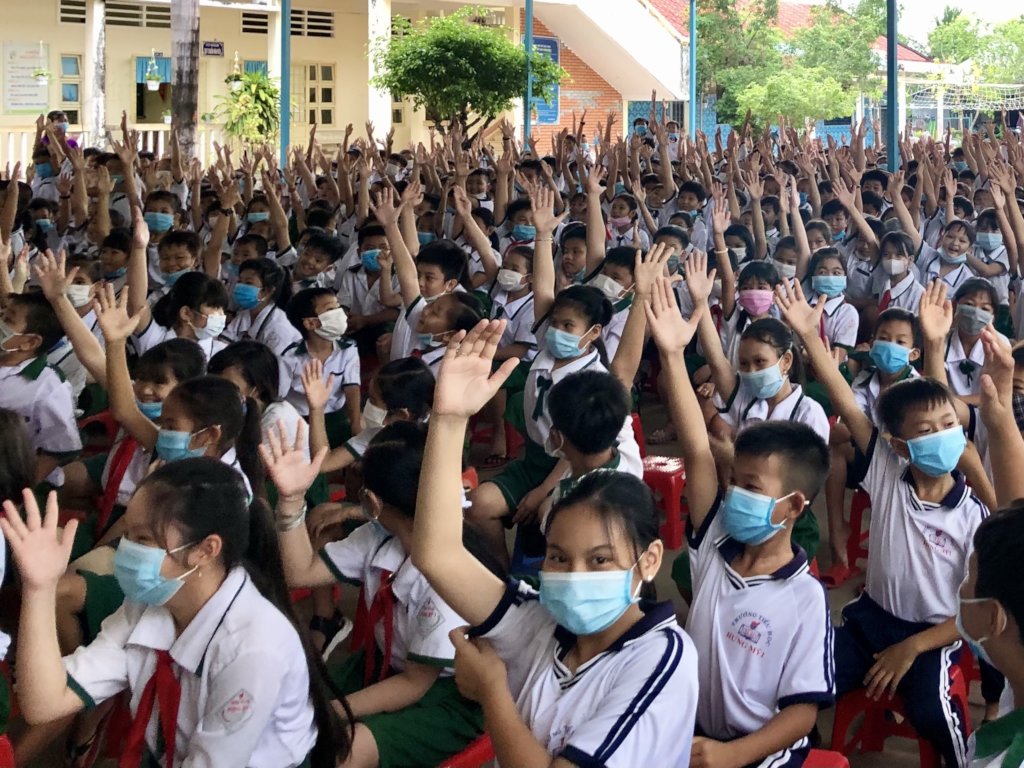 Every school girl needs quality education.
And our school girls need clean water and safe sanitation.
Small acts. Big impact. To ensure access to clean water and safe sanitation is the right of every school girl in Vietnam.
Thanks to GlobalGiving and amazing donors and supporters, Loreto Vietnam has been in a right track to bring more school sanitation and health education to school girls in disadvantaged areas of Vietnam.
Since the launch of the project of GlobalGiving in April, Vietnam has faced several new wave of COVID-19 pandemic, which severely affected the school year plan as well as our project implementation timeline. In particular, the situation is getting worse for the last month, in some cities of our project, the rate of community case detection peaked at 77%, so a lot of risks for transmission without knowing the sources. However, with a close partnership between Loreto Vietnam, local authority and schools, we have utilized all the available timing slots when the schools were normally operated to introduce the project activities to teachers and students.
Another challenge to our project is not reaching the goal of $50,000 for more substantial activities. So far, we can reach only 10% of the goal. As a result, we would be incredibly grateful if you could share our project with your friends and family to help us spread the word about our work and continue to grow our community of supporters like you.
1. Initial results
In May, we conducted the monitoring trips and providing training on health knowledge and skills for 1,300 students in Ca Mau province. The local partners assigned staff to be responsible for maintaining, and operating the project regularly; planning periodic communication activities, guide students on the use of the facilities, personal hygiene, and school sanitation; setting up daily and weekly cleaning and cleaning schedules.
Loreto Vietnam and Bureau of Education and Training (BOET), all the primary schools in the regions and representative of parents' boards organized review meetings on school sanitation and hygiene according to the legal documents of Ministry of Education and Training and Ministry of Health. Loreto Vietnam and BOET head gave an orientation on the two legal documents of Ministry of Education and Training and Ministry of Health on school sanitation and hygiene, 6 standard steps of hand washing as instructed by Ministry of Health.
The team also delivered the communications sessions to the students and teachers via two simple and easy videos to learn and practice:
Hand washing funny dance https://www.youtube.com/watch?v=fWC0HIWKfoE
Hand washing to keep COVID away https://www.youtube.com/watch?v=JV9MeSiRxBI
Afterwards, the BOET and school management used two above legal documents for their review and monitoring tasks. All the teachers will use 6 steps of handwashing and dance to integrate into all classes within their official curricula.
At the review workshops chaired by BOET in May, no schools reported any incidence related to poor hygiene and sanitation. The 6 steps of handwashing and related dances were repeated in every Monday morning session.
2. Coming activities:
Continue to raise funding to rebuild and renovate the school sanitation facilities in Mekong River Delta region.
Conduct the painting contest for all the students with the theme of keeping the school and school sanitation clean and beautiful
Deliver further trainings and communications to the students and teachers
Initiate mass media and social media activities to promote all the schools' results
Measure the project impacts for re-planning, expansion of the model.
"A toilet is not just a toilet. It's a life-saver, dignity-protector and opportunity-maker" (United Nations). Therefore, access to clean water and basic sanitation is the right of every child. However, in remote areas of Vietnam, many children have limited or even no access to clean school sanitation and safe water, making them vulnerable to diseases caused by poor hygiene. Our program aims to promote a standard model of school sanitation and health education in those disadvantaged schools. To fulfil this goal, we do need your support and consider telling your friends and family about our project—you can share this link https://www.globalgiving.org/projects/clean-sanitation-for-school-girls/ on social media, or just bring us up in conversation. Sharing with your community why you chose to support our organization will help us increase the work we can do in our community.
Many thanks and I wish you and your loved ones health, safety and happiness these days. I hope once the pandemic is under control and it is safe for travel, we can bring you on our field trip to visit our wonderful schools to see our joint social impact to support students with safer and cleaner school sanitation for their health and future.