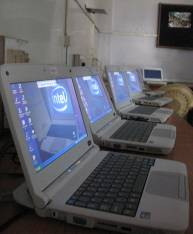 By providing Classmate PCs and training, CARE and Intel are helping students at residential girls' schools benefit from the technological revolution that is sweeping India. Thanks to the generosity of the Intel-powered Classmate PCs (CMPCs), and volunteer support from Intel staff, hundreds of these girls are accessing to the world of technology and the learning opportunities it brings.
CARE India's Girls' Education Program (GEP) works to help students master subjects including language, math and science, and cultivates questioning minds and leadership skills. GEP's goal is to reach 2 million Indian girls through 2012, as part of CARE's worldwide Power Within initiative, which seeks to enable 10 million girls in 20 countries to complete their primary education and develop leadership skills by 2015.
CARE's support for special residential schools in India ensures that older girls and adolescents who have dropped out of school or never enrolled have an opportunity to catch up. A crucial part of this work is the provision of equipment and training in the use of technology as an educational tool. Through Classmate PCs for Better Education in India, we are equipping four such schools in the states of Orissa and Uttar Pradesh (U.P.), and a regional resource center, with CMPCs.
Distribution of CMPCs
The Intel-powered Classmate PC, designed for students in emerging markets, is a small, mobile education-oriented PC to be used in classrooms. The fully-functional PC is designed to provide affordable, collaborative learning environments for students and their teachers.
Intel has arranged with the manufacturer to provide 60 CMPCs in support of CARE's education work in India. The project also supports the use of content appropriate for the class level of the students using the CMPCs, and integrates the Intel Teach curriculum wherever possible for capacity building of teachers.
The placement of CMPCs will allow students to collaborate, exchange information and review e-learning material, while teachers can monitor classroom activity, supplement and extend their lectures with interactive material.
CARE identified the schools and resource center that would benefit from the gift of 60 CMPCs, as follows:
SCHOOL 1:
Type of School: Udaan residential school
Location: Hardoi, U.P.
Target group: Older girls (10-14 yrs) from vulnerable families
Number of CMPCs: 16
SCHOOL 2:
Type of School: Udaan residential school
Location: Mayurbhanj, Orissa
Target group: Older girls (10-14 yrs) from vulnerable tribal families
Number of CMPCs: 10
SCHOOL 3:
Type of School: KGBV residential school
Location: Select 2 schools in U.P.
Target group: Older girls from educationally backward blocks
Number of CMPCs: 24
SCHOOL 4:
Type of School: Resource Center
Location: Across program locations
Target group: To be used by resource persons in training and capacity-building activities with teachers and children
Number of CMPCs: 10
Volunteer support from Intel Education Service Corps
Intel USA provided 12 volunteers from the Intel Education Service Corps (IESC), who visited India in two batches, first in April 2010 and then in October and November 2010. The IESC team deployed all 60 systems in two government residential schools supported by CARE, two non-government residential schools completely funded by CARE, and an education resource center used for training, capacity building and development of educational materials.
The Intel teams set up wireless routers and established classroom networks, installed learning software and applications such as anti-virus software and Open Office, and developed training content in Hindi. They trained 26 teachers, two teacher trainers and 73 students, familiarized CARE field staff with the technology and provided a point person with an administrator username and password for trouble-shooting purposes. The team also cleaned virus infections from existing school desktop computers.
The visits included extensive meaningful interactions with students, teachers, administrators and CARE field staff, who will remember the Intel volunteers' generosity as they learn and grow through the technology.
There was a follow-up visit by Intel during March-April 2011 to all the residential schools where the CMPCs have been deployed. The team conducted refresher trainings on the use of CMPCs, using different educational softwares, using Open Office, etc. There was encouraging feedback from the teachers and students regarding the visit from which they hugely benefitted. The IT staff of CARE in the state location is now actively supporting trouble-shooting and other solutions.
Next steps:
CARE and Intel continue to stress the importance of long-term sustainability and the feasibility of scaling up in the provision of educational technology to extend to more schools in Uttar Pradesh and other states. Intel volunteers will be visiting schools again in October-November 2011 providing continued training for teachers and students.