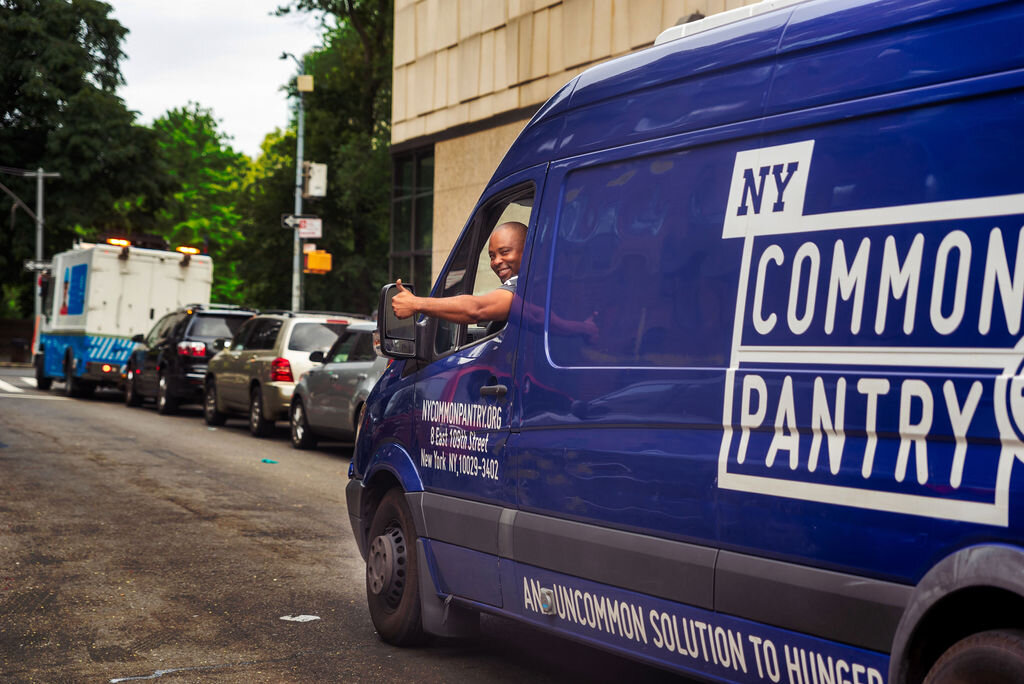 Served 9,331,484 meals
Reached 66,159 guests across NYC
Accessed $6,657,505 in benefits
Our Mission and Goals
New York Common Pantry (NYCP) reduces hunger and promotes dignity, health and self-sufficiency. Since opening in 1980 as Yorkville Common Pantry, a small all-volunteer community resource, NYCP has grown into one of the largest food aid providers serving New York City residents. Even before COVID-19, over one in three New York City households struggled to meet their most basic needs. Food insecurity in New York City increased by 36% at the height of the pandemic, and approximately 1.5 million people in the city run out of food between paychecks, skip meals so others in their household can eat, cut back on food purchases to pay other bills, or don't know when they will sit down to a healthy meal again.
NYCP programs, offered at our locations in East Harlem and the Bronx, as well as sites citywide, combat food insecurity and hunger with a whole person approach. At NYCP, food assistance is only the first step toward alleviating food insecurity. Our case management services help guests access state and federal benefits, like SNAP and SSI. Nutrition education offers information about healthy eating habits and instruction in preparing the fresh healthy food we provide. We view food provision as crucial but incomplete support. If the underlying cause of hunger – poverty – isn't addressed, those we serve cannot break the cycle and achieve long-term food security. By offering choices and personalized solutions in our anti-poverty programs, we recognize our guests' individuality and self-respect.
We can't fulfill our mission without community partnerships. To reach food insecure New Yorkers in their own neighborhoods and combat any stigma against receiving food assistance, we collaborate with social service agencies, hospitals, and sites such as senior and veteran centers, schools, community centers, and settlement houses, with over 200 partner organizations' populations benefiting from NYCP programs. Our volunteer program, now rebuilding after being curtailed for COVID-19 safety, used to involve over 20,000 New Yorkers annually. In FY22, 11,765 individuals donated over 30,300 hours of labor in our pantries and kitchen, working alongside our staff of 83 full-time and 14 part-time employees.
NYCP food programs help families to stretch their budgets, reallocating resources to housing, clothing, health care, and education. We provide not just fresh healthy food, but a fresh start, a sense of community, and hope for a brighter future, for thousands of families and individuals every year.
Our Programs and Impact

Choice Pantry distributes nutritionally balanced grocery packages to thousands of families annually from our locations in East Harlem and the Bronx, providing over 2.8 million meals in FY22. Our innovative "choice" model allows Pantry members to order their groceries online or on-site using touch screen tablets. Mobile Pantry, our newest program, offers the same fresh grocery packages as our brick and mortar locations for curbside pickup at community partner sites citywide. Mobile Pantry served more than 40 sites in Manhattan, the Bronx, Brooklyn, and Queens in FY22, providing 2,011,305 meals. Hot Meals, at our East Harlem location, offers healthy freshly prepared meals five days a week and "brown bag" lunches on weekends. We distributed 58,012 meals in FY22. Help 365 and Help 365 Mobile provide case management services, such as assistance accessing SSI benefits and SNAP (Supplemental Nutrition Assistance Program), as well as Choice Pantry program enrollment. Project Dignity is a bridge back to well-being for our homeless guests, offering on-site showers, laundry, and haircuts, providing a mailing address, and connections with services that aid in locating housing, medical care, and job training. NYCP social services programs accessed $6,657,505 in resources in FY22. Live Healthy!, our nutrition education program, helps guests build the food preparation and shopping skills to eat healthily on a budget, administers a farm share for low-income participants, and collaborates with clinical partners to reach food insecure New Yorkers at high risk for diabetes, hypertension, and other diet-related illnesses. Our Nourish program serves low-income seniors in their own communities, providing supplemental grocery packages and nutrition education services. Over 17,000 individuals over 60 received 4.3 million meals from this program in FY22. We conduct Food Rescue through partnerships across New York City, collaborating with wholesale and retail food suppliers to rescue nutritious food that would otherwise end up in a landfill. Our guests benefited from over 1.6 million pounds of fresh healthy donated food in FY22.
A Look Ahead
In FY22, NYCP provided over 9 million meals and saw nearly 600,000 visits to our programs. Even as the city reopens and the local economy improves, NYCP faces ongoing pandemic-related challenges. The poorest neighborhoods, already lacking resources, are slow to recover, and our new Mobile Pantry vehicle will continue grocery package deliveries citywide in FY23. Supply chain issues caused shortages and increased the prices of staple grocery items. Our budget for purchased food was over $2 million in FY22 and we have increased it by more than 30% for FY23. We expect to distribute 10 million pounds of food in FY23, and are moving our food storage and distribution operations to a state-of-the-art facility in Hunts Point, near the famous produce market that houses several of our vendors and food rescue partners.
Taking this important step to make our food programs operations more efficient and sustainable would not be possible without the support of our generous partners. Thank you for your commitment to fighting hunger and poverty in New York City.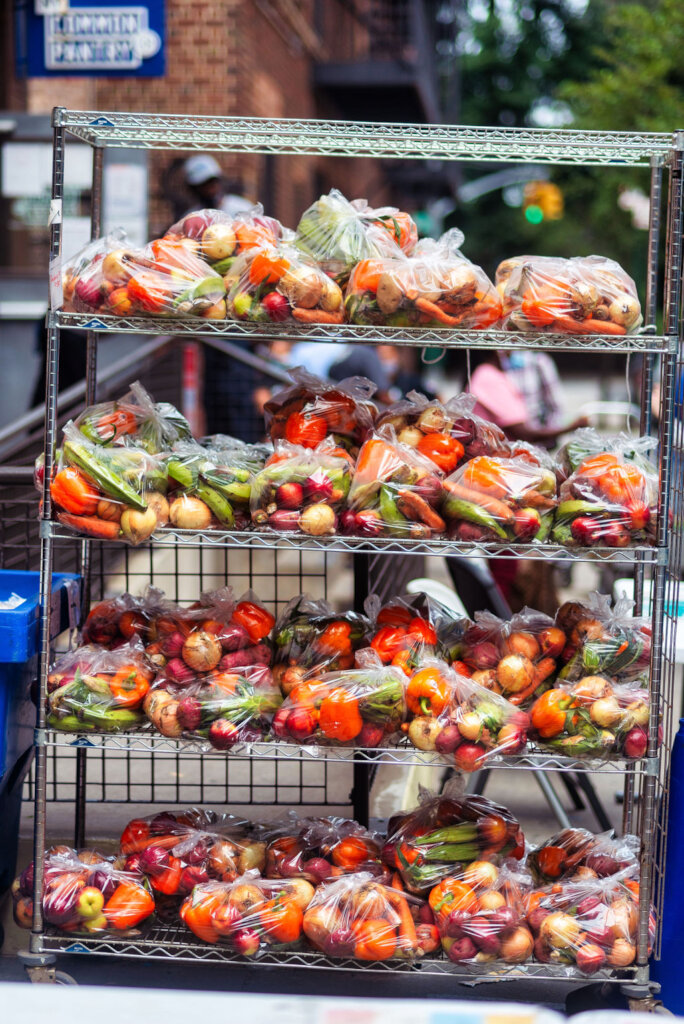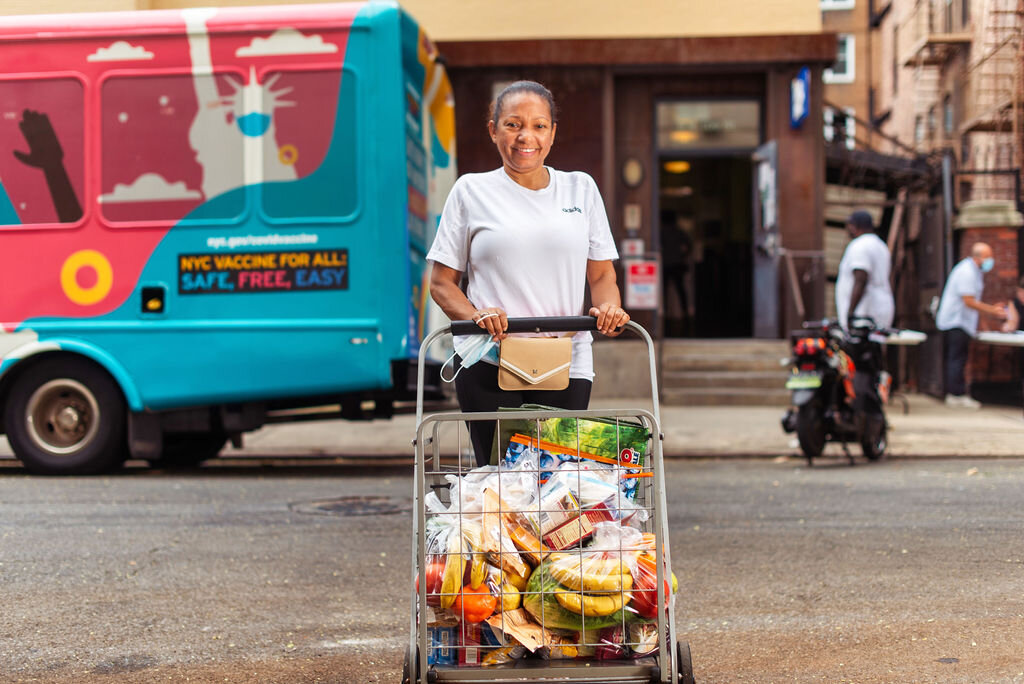 Links: