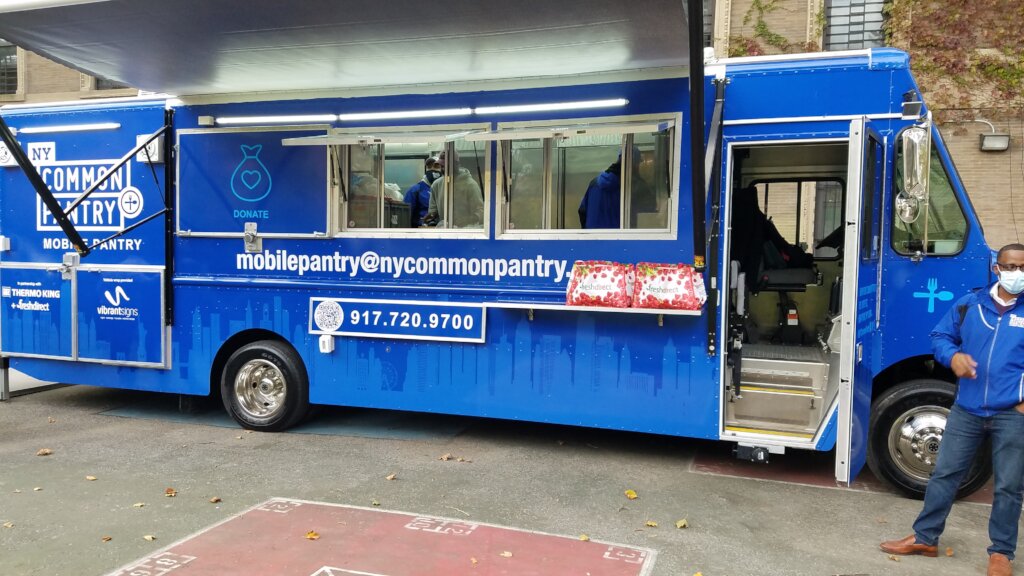 Providing fresh healthy food and social services support for food insecure New Yorkers has been especially challenging during a pandemic. COVID-19 has increased the need for our programs and we are committed to helping as many people as we can, turning no one away.
One of the biggest changes at New York Common Pantry during pandemic operations has been the accelerated implementation of our Mobile Pantry program. Since April 2020, we have been working with other social service organizations and community leaders to provide shelf-stable pre-bagged grocery packages for distribution, reaching New Yorkers in need in their own neighborhoods. While many of our food rescue and donation sources were closed due to COVID-19, we were able to repurpose our food rescue vehicles for this emergency service, making deliveries to locations around the city. As the city reopens and our food rescue trucks return to their intended use, many of the populations we reached via this pilot verson of the Mobile program still need help, especially those in "food desert" locations, with few affordable healthy food options.
The Mobile Pantry currently serves four NYC boroughs, reaching 25 weekly or bi-weekly community partner sites and another 26 monthly, on average providing 30,000 meals weekly, as many as our Choice Pantry in East Harlem. The program provided more than 1,130,000 meals in FY21.
We are proud to report that our first Mobile Pantry Vehicle is now on the road! This custom built food service vehicle -- which we have named Zeus -- has refrigeration, freezer, and a concession window to serve guests directly from the truck. With Zeus, the program is beginning the transition to providing full Choice Pantry services, including case management and nutrition education, starting in the areas of most need in the Bronx and Upper Manhattan. NYCP has set the goal of at least 20 full-service sites by 2024.
As we near the end of our fiscal year 2022, we anticipate serving over 8 million meals across all our food programs. Supporters like you help us keep our pantries stocked with fresh healthy food and supplies for distribution as we serve more individuals than ever, including many who have never accessed emergency food aid before, and those who benefit from our increased reach with the new Mobile Pantry program.