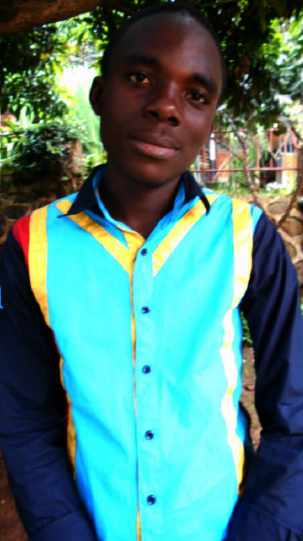 The Ek'Abana Centre in Bukavu welcomes children accused of witchcraft and children in need. Today, the centre run by Sister Natalina hosts almost 200 children.
One of these children is Ngaboyeka.
Ngaboyeka was born in 2004 in a war zone, where life was difficult because of the presence of rebels and armed men that fought over minerals and natural resources such as anthracite.
Fortunately, his parents are both alive. His father used to work as a watchman wherever he could find a job, while his mother was in a constant state of pain because of the burns caused by anthracite.
In 2012, Ngaboyeka's family decided to leave their village and move to Bukavu to escape the war. Here Ngaboyeka was welcomed into the centre. At that time, he was attending the third year of primary school.
Thanks to the support of the Ek'Abana Centre, Ngaboyeka was able to complete primary school and started secondary school. In the meantime, his father started working at the centre, and thanks to his work he is now able to pay for the treatment for his wife.
The staff of the centre worked a lot in order to inform and make parents aware of the importance of granting education to their children despite their economic situation. Thanks to this work, today Ngaboyeka is attending the sixth year of secondary school at the Ciriri Institute. The staff of the centre is extremely happy because this means that the child has taken to heart their advice, and so did his parents.
Ngaboyeka's story is one of the successful stories that are possible thanks to the work of the Ek'Abana Centre, that helps dozens of children every year.
Stay by their side and support their work. Help a child grow up and go to school.
Please, donate to support the great job that the centre is doing for these children.
Thank you!