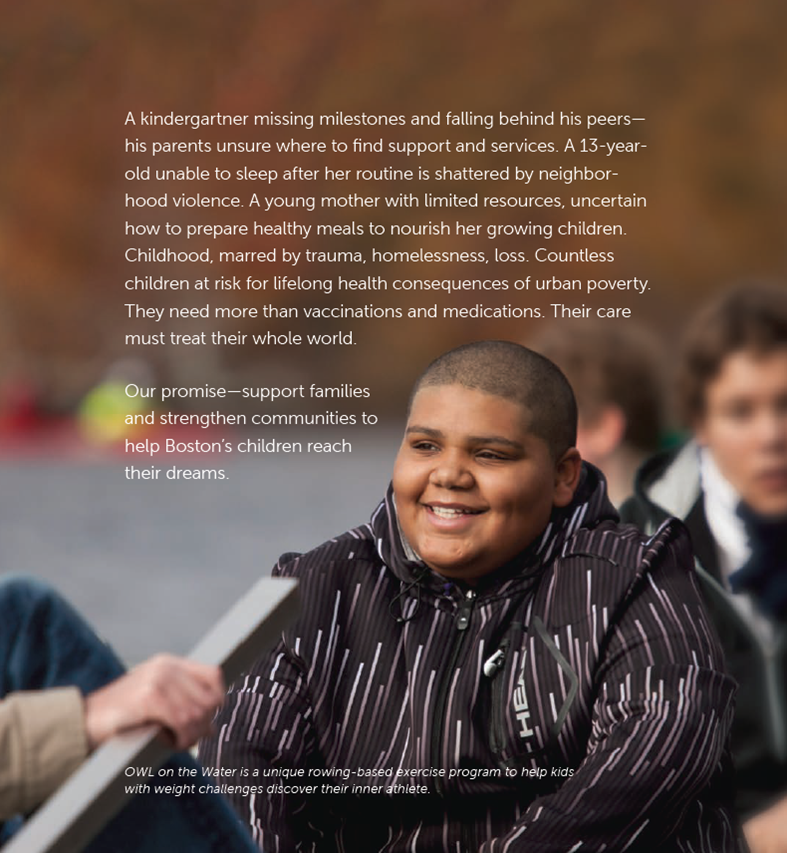 Boston Children's Commitment to the Community
Boston Children's brings the same ingenuity to improving health outcomes for underserved children as to repairing a heart defect or broken bone. As part of our commitment to the community, Boston Children's is redesigning primary care to wed medical services with social and psychological interventions and give families a "medical home".
The holistic approach encircles the family. We screen patients for homelessness and developmental delays, intervening to ensure children receive the right help at the earliest possible point. We connect parents to the indispensable resources they need, and we support schools, health centers and community organizations so they can deliver better care for students, patients and residents.
We know what works. Time and again we've seen results. The overweight 10-year old who sheds pounds and gains self-confidence, the teen mother who builds parenting skills and watches her toddler blossom, the proud father who learns asthma-management techniques so his son can breathe more easily. With your help, we will:
Address the chronic health and social conditions that prevent children from reaching their potential.
Prevent and treat behavioral and mental health issues before they escalate into academic underperformance, substance abuse and psychiatric emergencies.
Reshape lives, supporting families and children to eat better, exercise more and live healthier.
No other children's organization in the city has the reach, the range of services and the expertise to help Boston's kids grow up healthy. The services we offer- while essential to children's wellness-are not reimbursable by most insurers.
There has never been a more critical time for philanthropic support. Health care is at the core of life for children and families. Boston Children's Hospital extends beyond the walls of the hospital providing important and relevant prevention and outreach services. Philanthropy ensures that we can continue to assist families with extraordinary needs, provide case management services and address the health issues most impacting our children like childhood obesity and nutrition, asthma, mental health, cardiac care, child development and injury prevention with some of the most renowned doctors and scientists in the world.Thank you for your support.