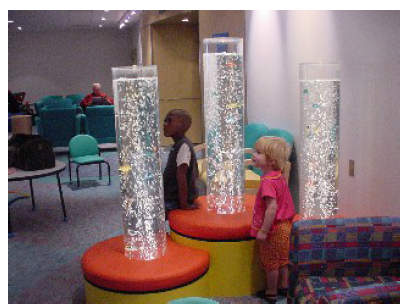 It's an extraordinary transformation: a child comes to us barely surviving, then goes home thriving. A testament to the unparalleled care received—and to generous people like you. When you support the Children's Fund, you're supporting the many priorities and innovative programs in patient care, teaching and medical training, research and community health for children from low income families and communities.
Children can be hospitalized at Boston Children's Hospital for a day, a week or several months in order to receive the medical care they need. They are away from school, family and friends, perhaps many miles from home, dealing not just with illness, but also with loneliness and anxiety. Your exceptional generosity brings emotional support, learning opportunities and fun to these children when they need it most.
Our child life specialists, trained to work in a medical setting, transform play into therapeutic interventions through activities that inspire emotional expression. They help children and their families cope with the turmoil of a child's illness and reduce the stress that can complicate healing. Over the past year we've experienced much growth and have made important improvements to Child Life Services—improvements that would have been impossible without your dedicated support. Thank you for your compassion and kindness.
One of the most dramatic changes has been the addition of weekend child life specialists. Weekends are a quiet time at Children's. The rush of doctors' rounds comes to a stop and patients have time to visit with family and friends. But the slower pace can also be an unwelcome reminder of all the enjoyment that children miss out on by being hospitalized. Previously, only the oncology unit had the benefit of a weekend specialist. Thanks to the generosity of donors like you, the hospital has added five new staff members to oversee volunteers, host events and keep the playrooms open seven days a week. Our new specialists have transformed the weekend atmosphere for patients and their families.
Boston Children's Hospital is committed to caring for the whole child, not just his or her disease or injury. We are deeply grateful for your compassion and vision in supporting the Children's Fund and for helping children and their families transcend the difficulties of hospitalization.