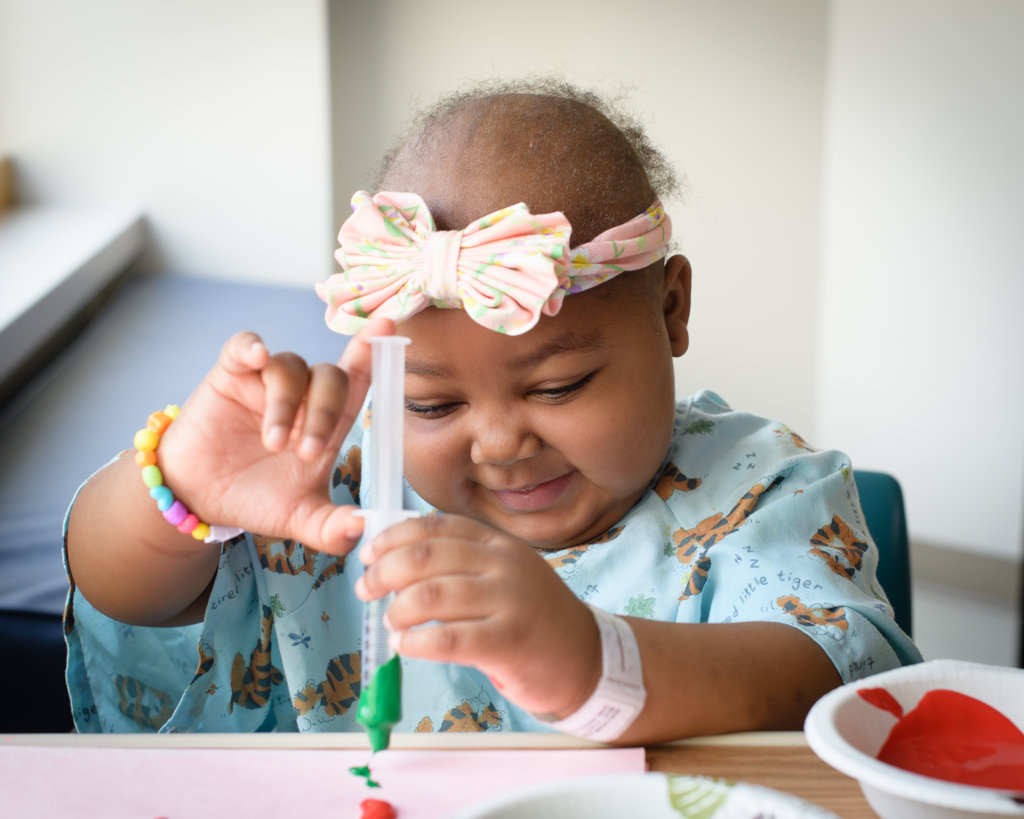 Our most vital fund, the Every Child Fund empowers us to respond to a changing world with one goal: to give every child a healthy future. Your gift supports our family-centered care: from big needs, like temporary housing and financial assistance, to small kindnesses that relieve stress. Families can focus on what's most important, their child. These services, so necessary and compassionate, are not covered by insurance. Here are some of the ways children and families are supported within the Hospital:
Creative Arts: Nearly 14,000 children have been cheered by our music therapists. Over $50,000 worth of crayons, stickers, bubbles, and balloons a year delight kids and distract them from painful procedures. On the Medical Intensive Unit, patients are often times intubated and scared, but with the support of our Creative Arts team, patients are engaged and even coloring!
Celebrations: Children can be hospitalized at Boston Children's Hospital for a day, a week or several months in order to receive the medical care they need. They are away from school, family and friends, perhaps many miles from home, dealing not just with illness, but also with loneliness and anxiety. We help families celebrate birthdays, holidays, and events for kids to look forward to. Special milestones include:
1095 birthdays a year
415 Thanksgiving dinners
150 Halloween costumes
And countless bubbles parades for the end of chemotherapy
Support sessions, interpreters: Having a sick child can affect the entire family, including siblings. Social workers and support sessions make families feel less alone. We offer over 100 interpreters and 20 languages to help families who don't speak English talk to doctors and caregivers. Interpreters are accessible 24/7. When they cannot make an in-person visit, phone calls or skype sessions are available.
Your support makes a difference in the eyes of patients, families and siblings. Your gift to the Every Child Fund does so much more than help our families catch a break. You allow parents to be fully present with their child – and to receive an extraordinary level of support, one we otherwise could not make possible. Thank you.