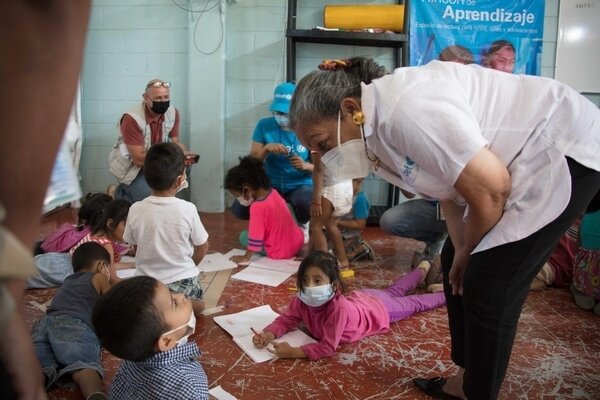 Dear Friend,
Refugee and migrant children and families often face extreme hardships in their countries of origin and in transit. COVID-19 is amplifying harrowing situations for migrant and asylum-seeking children across Central America, Mexico and the United States. After fleeing gang violence in their communities, these children face threats of traffickers and cartels along migration routes, gender based violence and government policies that diminish their opportunity to thrive. Such policies include immigration detention and border closures that restrict access to international protection – a lifeline when the threat of gang retaliation and violence waits at home.
Detention is equally traumatizing for children. After days in facilities that often lack quality standards of care and hygiene, many children are forced to return back to violent communities. Oftentimes, children are held in detention without any information about their safety or their asylum case. Tens of thousands of children are held in Mexico alone each year. As policies change quickly, the need to improve case management for migrant children, increase protection, remove children from detention centers and install critical safety measures across the region is vital.
While the information we have is often incomplete, there is much that we already know about what works, and what needs to be done to ensure displaced children and young people are on the right track to survive and thrive. Fortunately, there is a growing recognition of the importance of ensuring access to mental health and psychosocial support for children, adolescents, primary caregivers, and families, and expanding community-based approaches to address and prevent common mental health conditions.
With your support, UNICEF was able to strengthen protection of migrant children at a critical juncture, and build capacity of government and civil society actors to support the mental health and psychosocial wellbeing of children, while working to improve reception and care systems for the long term. In addition, UNICEF expanded child protection services, improved capacity building to service providers, case management and advocated for policy changes in Mexico, the United States, Honduras, El Salvador and Guatemala. This cross-border program has helped to meet the unique and comprehensive needs of children, including direct community needs as well as reinforcing policies that prioritize children's wellbeing.
UNICEF's engagement with the U.S. government increased significantly in 2021, providing important opportunities to expand impact for children. At the very start of the year, UNICEF worked alongside other UN agencies to bring asylum-seeking families safely into the United States as a part of the "End MPP Operation" – a US government led operation to wind down a policy that returned families to Mexico to wait out their asylum proceedings (the Migrant Protection Protocols or "MPP"). UNICEF helped develop child-sensitive procedures related to the operation and provided direct support on child protection cases, while also building up reception capacity in northern Mexico. Overall, the operation helped over 13,000 family members with asylum cases within the U.S. be transferred into US territory.
UNICEF programming in the US, Mexico and Central America is helping children and families return to normalcy after harrowing experiences. Children – no matter where they come from or what their migration status – are children first and foremost. Thanks to your support children are being matched with a chance at a healthy, happy and productive future.
On behalf of migrant children in the region, thank you.
In Partnership,
Kelly Procida