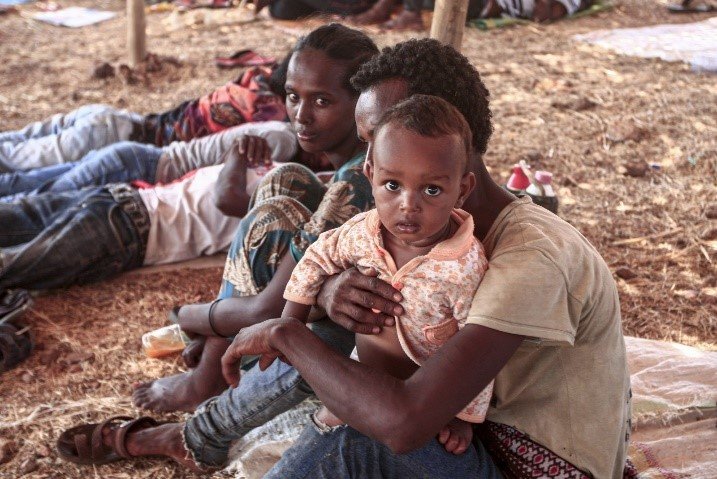 Dear Friend,
Ethiopia continues to face a severe humanitarian crisis as a result of the conflict in Tigray, with massive internal displacement, as well as refugee outflow into neighboring countries, predominantly into Sudan. As of May, it is estimated that 3.6 million people have been internally displaced as a result of the conflict in Tigray. Access remains an issue in Tigray and surrounding regions, with limited routes for aid access and continued threats against aid workers.
UNICEF is acutely concerned about food insecurity and subsequent malnutrition in displaced children. The typical belg rains that fuel the healthy growth of crops in the spring arrived a month later than usual; as a result, experts expect lower crop yields that will directly affect food security in the region. Lower yields will also lead to inflated prices, with market prices of staple foods already increasing by 19.2 percent in April.
Thanks to your support of UNICEF's work on behalf of migrants and refugees around the world, UNICEF continues its life saving work to treat malnutrition for those impacted by this crisis. A total of 152,413 children in the country have been treated for severe acute malnutrition (SAM) between January – April 2021 with UNICEF direct support, and an additional 38,032 under 5 children were treated in May. Preventative measures have also been deployed. In May, counselling on infant and young child feeding was provided to pregnant women and caregivers with children under two years, reaching a cumulative 15,231 caregivers with counseling. Similarly, some 9,563 children aged 6-59 months have received Vitamin A supplementation.
Additionally, your support has ensured UNICEF continues to be able to provide education support for displaced children, returnees and other emergency-affected children in collaboration with the Ministry of Education and NGO partners. In total, 104,780 children have been reached through the provision of education services supported by UNICEF, government and NGO partners in emergency-affected regions of Ethiopia including Tigray. UNICEF is collaborating with Plan International to provide Bete services for children affected by the recent conflict in the area (Bete is an integrated child protection and education approach). Despite these important efforts, a number of education partners in IDP camps are not being reached with the support and supplies they need.
Finally, your generosity has allowed for UNICEF's continued support of child protection and emergency services for internally displaced persons and returnees in the region. Some 4,001 children were reached with messaging on prevention and access to child protection and gender-based violence (GBV) services as it relates to COVID-19, and 10,222 women, boys and girls were provided with GBV risk mitigation, prevention and response services. Since January, 9,891 children and caregivers were provided with mental health and psychosocial support that included safe space activities, socio-emotional learning sessions and parenting education for caregivers. These sessions have enabled caregivers to understand and manage their own emotional experience and develop realistic expectations of child behavior that are appropriate to the developmental level of their child.
Thank you for standing alongside UNICEF in support of the children and communities effected by the worsening crisis throughout the Tigray region. Your generosity continues to serve as a light for those who have been forced to flee their homes and will ensure continued support for these resilient communities.
In Partnership,
Whitney