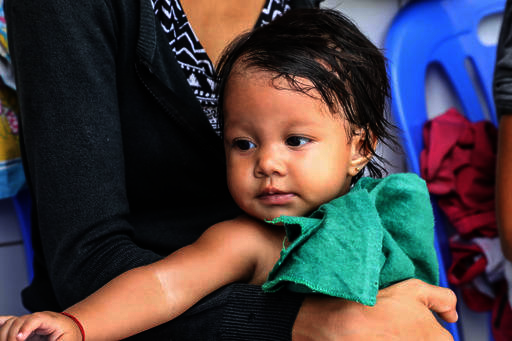 Dear Friend,
Venezuela continues to have one of the fastest-growing outflows of migrants and refugees in the world. By the end of 2019, countries in Latin America and the Caribbean were hosting 3.9 million Venezuelans out of the 4.8 million Venezuelan refugees and migrants worldwide. As it stands, this outflow of children and families represents the largest displacement in this region's recent history. Currently, 67 percent of Venezuelan migrants and refugees are being hosted in only seven countries: Colombia, Peru, Ecuador, Brazil, Panama, Trinidad and Tobago and Guyana. The scale of needs resulting from this outflow has surpassed the capacities of these seven receiving countries, thus straining the already vulnerable host communities.
Thanks to your support, in 2019 UNICEF and partners were able to scale up assistance to both Venezuelan refugees and migrants, as well as host communities. In the past year, UNICEF's response throughout these seven countries reached over 288,000 children; from refugee, migrant and host communities, who received assistance through services and supplies in key areas such as education, health, nutrition, water, sanitation and hygiene (WASH).
Below are a series of target indicators that were reached in 2019:
Reached 37,000 children in Colombia with formal and nonformal learning activities
Provided over 52,000 children and family members in Peru with hygiene kits and information of safe hygiene practices
Prevented acute malnutrition for over 7,100 children in Ecuador by providing nutritional supplements
Reached over 27,600 children in Brazil with psychosocial support interventions
Provided 303 families in Panama with legal assistance focused on immigration regularization processes
Your generous support has led to renewed livelihoods for children and their families throughout these seven host countries. Going forward, as children and families continue to flee Venezuela, UNICEF must stay persistent in scaling up its response. In 2020, UNICEF estimates that over 1.9 million children will need assistance in countries receiving the highest influx of Venezuelan migrants and refugees. Your continued support has been, and continues to be, critical in UNICEF's efforts to ensure that these child migrants and refugees, as well as children in host communities, not only sustain a livelihood, but thrive once again.
Sincerely,
Whitney Simon