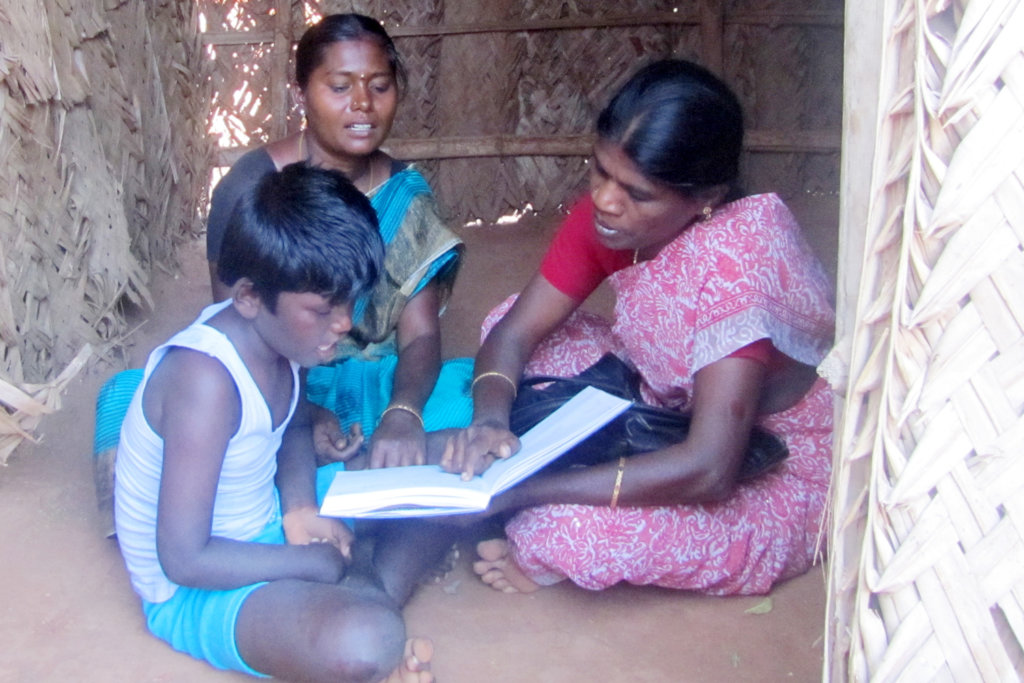 Report to GlobalGiving
1. Title of the project : Support children infected and affectedby HIV/AIDS – #334292.
2. Project area : Dindigul and Namakkal districts, Tamilnadu, India.
3. Target beneficiaries : 5 children from Dindigul district
4. Services provided : a) Educational materials
b) Health education
c) Nutrition education
5. Duration of the project: December 2018 to February 20196.
6. Description of the activities carried out:
a. Educational materials:
With the little donation of $25 (Rs.1750) we could provide the educational materials like 3 notebooks, 1 geometry box, scale/pen/pencil, 1 graph note, 2 king size note and 1 sketch pocket to each child. These educational supports have been very much supportive to these 5 children who are going to write their final exam in April 2019. Children who found difficult to go to school on time due to lack of the above mentioned educational materials are able to go to schools on time. We are happy as we are able to redeem these children from their psychological disturbance which might have led them to school dropouts. But they are happy now to have these materials with them that might enable them to complete their annual school exams successfully.
b. Health education:
Health education continued to be our priority areas for these adolescent girls. For the past three months we gave them the health awareness on personal hygiene, nutritive food, consuming iron rich food and FST tablets, menstrual cycle management etc. Wherever we had the possibility of meeting these girls in places like their own homes, schools, adolescent support group meetings, training programmes organized by SSH etc we have reoriented them all on these above said topics.
c. Nutrition education:
Though there was a need for providing nutrimix support to these 5 children, we could not provide due to paucity of funds. But we have not forgotten to provide Nutrition education to all of them and their parents as well. We emphasized on having a nutritional diet consisting of vegetables, fruits, locally available minor millets, greens etc so as to avoid diseases like night blindness; iron deficiency, malnutrition etc.
The same impetus on having individual kitchen gardens at their homes was given to every child. We are happy to see them having their own kitchen gardens at home and harvesting fresh vegetables and greens for the last three months.
7. Results obtained:
Educational materials and guidance was provided to 5 children. As a result of this, the possible school absenteeism was prevented and stopped.
Health education was given to the same adolescent girls on personal hygiene, nutrition diet, sexual and reproductive health issues etc. These girls are able to safeguard themselves from anemia, sexual abuse, nutritional deficiency etc through this health education.
8. Further request:
As we said in our previous report we have around 200 most underprivileged children from Dindigul and Namakkal districts that are waiting for the continued education support from philanthropists and well-wishers. But unfortunately this project had not been supported by many donors during this reporting period. Hence we request all the good hearted people to support these children to complete their higher secondary schooling with your regular donations to this HIV/AIDS supported project through GlobalGiving in the coming months.
As many of us know, SSH has promoted another project called "Gaja cyclone relief measures for 200 families" through GlobalGiving. But for the past three months we received a sum of $210 as against $157,140. Hence may we request all the donors to contribute your share towards the total rehabilitation of 200 Gaja cyclone victims in Pudhukottai district, Tamilnadu, India in the coming months?
9. Thanks
We take this opportunity to thank GlobalGiving and the donors for their valuable support extended to the underprivileged HIV/infected/affected children from Dindigul district. The affected children are still in need for your continuous support for various interventions like continuing education, family support for survival etc. We hope to receive your further support and donations in the coming days.
Thanking you,