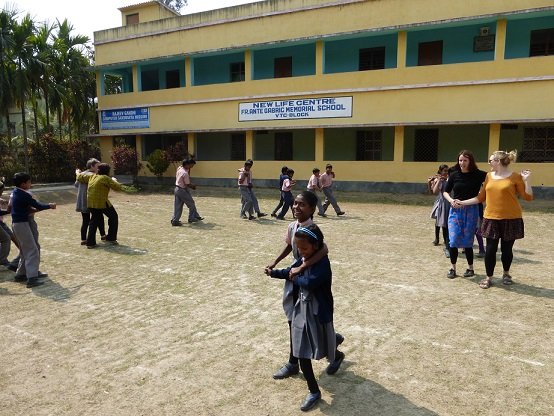 There are some activities that are universal and dancing is one of them. When I visited the New Life Centre School in February there were two occasions when dancing united two groups that have grown up in such different circumstances.
The first was when our group of 4 visitors from the UK attempted to teach some of the older students Scottish dancing.
After the usual giggling and awkwardness as some boys had to partner other boys and hold hands, (also universal), we realised just how much fun can be gained from music and dancing. We had 2 lessons to teach the Gay Gordons, no small feat, as the walking backwards proved impossible to some of the students.
As I was instructing from the side I watched with amusement as one of the boys, a typical macho type with a great sense of rhythm, refused to hold another boy's hands. He came to stand with me but he understood very quickly how the backward walking should be performed. Such a dilemma! What should he do? Lose face and enter the group again to 'show them how it should be done', or stand on the side knowing he could be top student in this activity?
He couldn't resist and was soon demonstrating with me, a natural performer!
The second occasion was on our usual visit to one of the families in the school. This was my fourth visit to this family. This extended family of grandparents, parents, and children with numerous cousins and aunties and uncles offered the generosity of their simple fare and then two of the young girls started dancing for us. In a spontaneous moment, which I no longer encounter in the UK, we all started to dance, such a joyous affirmation of our delight in being invited and our hosts' inclusivity.
We all held hands and danced around. I looked at my daughter and another member of the group of similar age, mid twenties, to see if this unusual display would embarrass them. On the contrary they were relishing this innocent pleasure. They both believed it was a highlight of the visit.
.