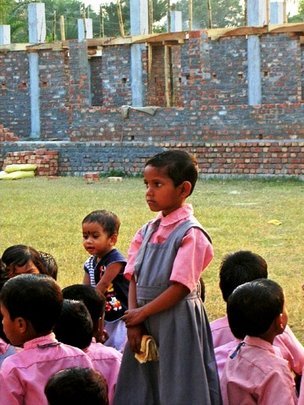 I have recently returned from Sarberia, West Bengal, my fourth visit to this inspiring school. When I first visited in 2008 on a building project I took this photo of one of the students in the school.
The new building in the background was the reason I was there, the Vocational Training Centre which doubles as classrooms during the school day. This girl's thoughtful look as all around her seem distracted captured my attention.
The school has grown from 100 students in 2008 to over 300 now. The area is extremely poor and most of the parents cannot afford the small school fee, so Alindra Naskar the Principal, is always looking for ways to subsidise the school, a constant struggle.
When I was there last month I asked about this student and she posed for the photo below.
Six years on and a new building, a day boarding centre for girls, which will serve her well, and more classrooms, which are vitally needed.
This girl is one of the lucky ones, she has stayed on at the school despite lack of funds, local mistrust of why girls need to be educated, and fear for her safety as she goes to and fro from school.
All of these things we take for granted in our country; education for these children is essential if they are ever to escape the poverty trap, and yet at the same time fraught with difficulties.
Here she is in 2014, older, smarter and ever hopeful that these new buildings will enable her to reach her potential in life; the right of any child surely?
Thank you for your support!