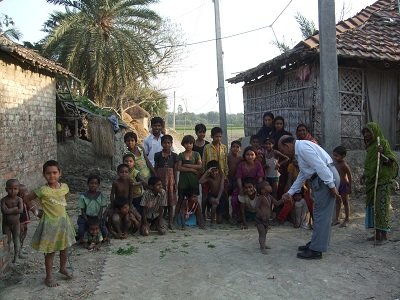 Alindra Naskar founder of the New Life Centre school in Sarberia is always keen to meet the local children as shown in this photograph, which I took when I visited.
Alindra's school now has over 300 children but there are many more local children who have to endure the government schools which provide little education, as I saw for myself.
I visited a government primary school with Alindra, at the invitation of the Headmaster. There were 4 classes in the school, the first room we entered had Year 1 and Year 2 students, age 6-7. There were no tables or chairs so the children sat on the dirty floor with their book on their lap. They had divided themselves into the 2 year groups but there was no partition or separation, and I wondered how they could concentrate with 2 lessons going on at once?
The room was very shabby and dark and there was an unpleasant odour, yet as usual the children were all smiles, and well turned out. The majority didn't have school uniform in this class, but they did further up the school.
There are 250 on this government school roll but only 50% attend on a daily basis. Part of the Headmaster's job is to find out why the children don't come to school, but when he visits their homes he said that he finds that they are already working.
Thanks to your support, Alindra has been able to improve the lives of some of the local children, but in order to continue expanding, he needs more funds, or sponsorship of individual children, a more sustainable way of providing a secure income, which at present pays 35% of the school's expenditure.
You could help Alindra do much more than just take this boy's hand?
Your hand could change his life forever.