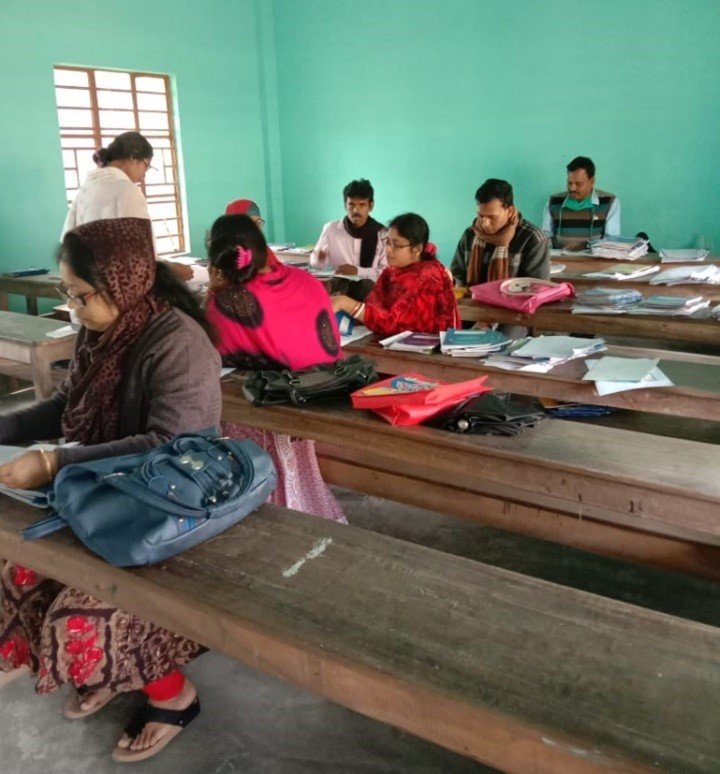 The New Life Centre school has not reopened since March but the online teaching and assessment of students by teachers is ongoing. The older children, particularly those who will be sitting their Board exams (equivalent of GCSEs) in February, are tutored and monitored closely by some of the staff who set them work with hard copies and then meet to assess it as shown in the picture above.
The Vocational Training Centre tailoring course reopened on 1st December with social distancing, hand sanitisers and a mobile temperature scanner in place to protect everyone.
Alindra has remained busy throughout, monitoring the childrens' progress as they learn in these exceptionally difficult circumstances; without a regular source of electricity, nowhere to study at home and, for the most part, parents who cannot help their children even in the most basic levels.
January is the beginning of the school year in India and usually an exceptionally busy time as parents come to register their children. Thankfully despite these strange times parents have not been deterred from registering their children, as seen in the picture below.
The Government has decreed that revision classes on the 2020 syllabus should be held on line if possible but also, as has been the case in Sarberia, through hard copies from now until the end of February and then the new syllabus will start in March, when hopefully the schools will be reopened.
As we know, there is no certainty to anything at the moment, but Alindra remains positive despite the most difficult circumstances, as he wrote to me recently, 'By God's grace we are keeping safe and as a whole things are going as well as can be'.