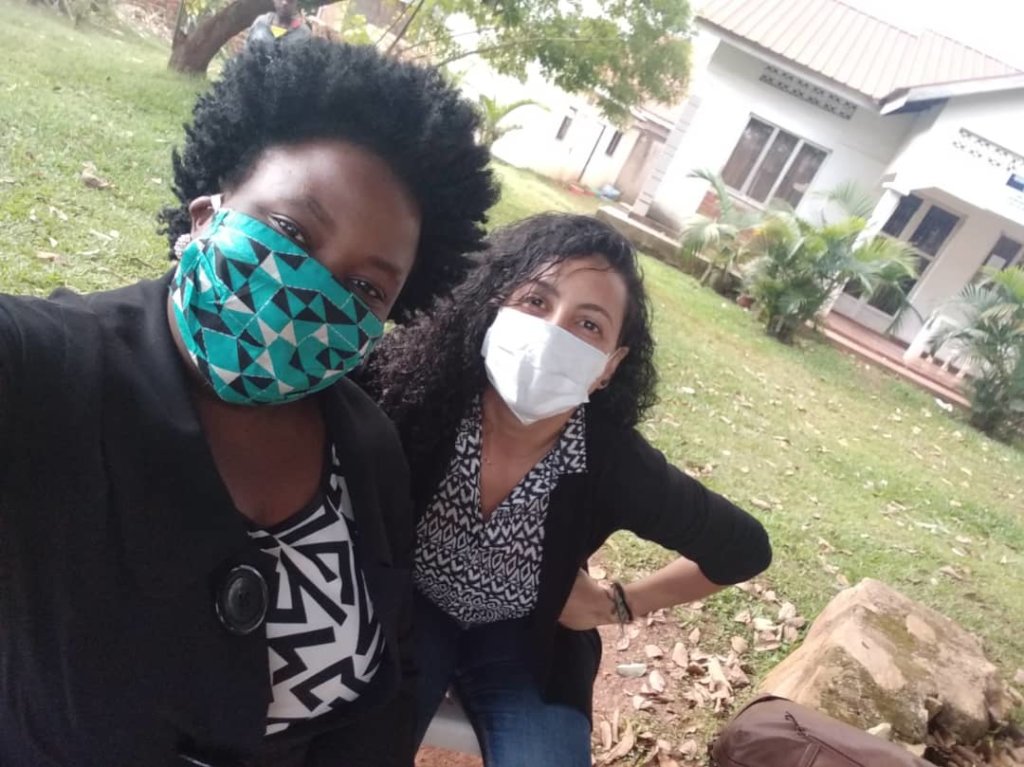 Summer 2020 has challenged URBAN REFUGEES, especially our Incubation Program in Uganda! It has been a tough and intense few months during which our team has spared no effort to provide support to urban Refugee-Led Organisations. I am so proud to share with you that we were able to innovate and strive to 1. get our activities going and continue to reach our beneficiaries and; 2. receive new funding from the US Government for COVID-19 rapid response in Kampala!
1. Incubation Program: end of year 1
In July 2020, training sessions have resumed in respect of preventive measures (social distancing, regular hand sanitization, masks) and refugee groups incubated in our program (the Sudanese Women for Peace and Development (SWPDA) who supports approximately 250 families and United South Sudanese Urban Refugees Community (USSURC) who organizes vocational skills training and provides assistance to over 800 South Sudanese refugees) have successfully completed the following modules:
Project Management
Communications: enhanced digital strategy (improved outreach and publicity); creation of a Facebook group; increased social media engagement.
Income Generations: concept and methodology
New collaborations have also been engaged with international NGOs for them to trust SWPDA and USSURC in providing materials, equipment and services to their communities with the help of URBAN REFUGEES. In this regard, USSURC was able to support women's livelihood skills on liquid soap making and engage with youth through bookmaking. USSURC also set up a helpline with a Juba Arabic Counsellor to provide support to South Sudanese refugees affected by mental disorders (depression) and has integrated an advocacy network of local NGOs and INGOs known as Charter for Change (C4C) whose mandate is to advocate for localisation of interventions by all humanitarian actors and better recognition of the role played by local organizations in response to beneficiary needs. SWPDA has referred more than 100 women for food assistance to different partners in Uganda, enabling those women to feed their families.
Finally, two new Refugee-Led Organizations (RLOs) are joining our Incubation Program for year 2: the Somali Community Association in Uganda (SCAU) who supports more than 18,000 Somali households and the Refugee Led Organisations Network (RELON) who is composed of 28 RLOs in Kampala and 6 RLOs in the settlements. RELON indirectly supports approximately 30,000 refugees and 4000 host community beneficiaries. We are thrilled to get them on board and can't wait to start the training sessions with them, welcome!
2. New COVID-19 rapid response program
On July 6, the US State Department's Bureau of People, Refugees and Migration (BPRM) donated $90,000 USD to Urban Refugees (UR). These funds will impact Refugee-led Organizations (RLOs) benefiting from UR incubation programs – meant to provide them with training on their key organizational issue and temporary funding – so they can, in this particular case, provide a solid response to COVID-19 for the benefit of refugee communities. Thanks to this new initiative, we have been able to refer 70 women refugees for Gender-Based Violence counselling and psychosocial support services; 630 women for receiving funding to support their businesses; 47 people for food assistance, 43 women for receiving cooking baskets; 70 people for receiving direct cash; 200 people for joining an apprenticeship program and 50 business groups for receiving business grants.
The COVID-19 rapid response program aims also at increasing information sharing about the virus so that refugee communities are well informed and can take the necessary protection measures. In that end, the RLOs of the program have been posting COVID-19 preventive information to their community via social media (WhatsApp and Facebook). Most RLOs have designed communication plans to enhance their communication strategy and increase their community outreach.
We could not have done that without you and your sustained support. YOU are the people supporting refugees in Uganda and in the world by empowering them to be actors of change for their communities. Thank you so much. I look forward to sharing more updates with you as we enter Year 2 of our Incubation Programs coupled with our COVID-19 rapid response that is to last until the end of 2020.
All the best and stay safe!